The power of Immersive: Changing Environmental Behaviours
Tuesday 8th November
Dome Screenings
As part of Immerse Fulldome UK 2022 festival, we're showing two dome screenings!
Antarctica, is produced by the BBC and is narrated by Benedict Cumberbatch. This viewing will start at 4.30pm.
'Worlds of Ice', a journey to the farthest reaches of the solar system, travelling through the dimensions of ice from the remote territories of the arctic, to a scientific complex nested under the South Pole, will be shown for one day only at 7.30pm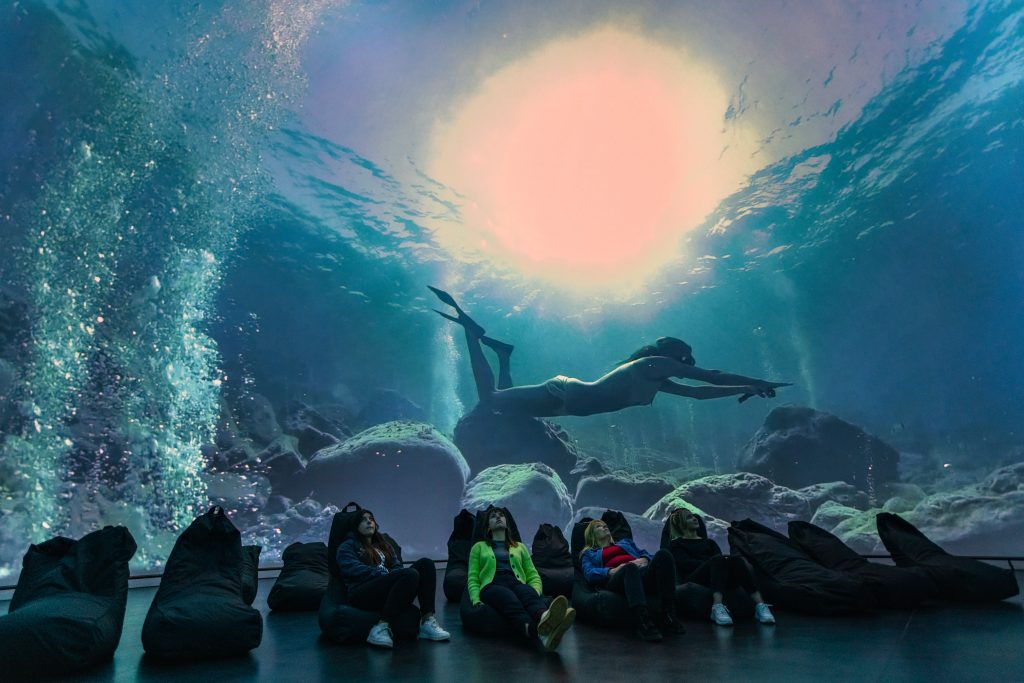 Public Event
Do you have in interest in technology and the green sector? At Real Ideas, we want to talk about current and future behaviours and perceptions around the climate crisis. This event is open to those interested in the environment, technology and human activity. Whether you are a beginner, expert, or anything in-between in your climate or technology journey, we welcome all!
We'll be joined by two fantastic speakers:
Tom Milnes – Artist, Researcher, and Curator
Tom Milnes' innovative interactive artwork, called 'Ashnihilation', is designed to raise awareness of the effect of ash dieback, a chronic fungal disease affecting ash trees in Europe.
'Ashnihilation' utilises Microsoft HoloLens augmented reality headsets that allow participants to watch 3D animated creatures populating the Hoe and Smeaton's Tower, in a guided visual experience which enables them to learn about local biodiversity and the importance of ash trees within our local landscape.
As part of the work, viewers focus on Smeaton's Tower, which becomes an animated Ash tree through the new cutting edge augmented reality experience. The work as part of a wider project commissioned by Plymouth City Council through Plymouth's Green Minds (funded by the ERDF/Urban Innovation Actions) and created in conjunction with Arts University Plymouth and with support from Devon Wildlife Trust.
Justin Wiggan -Sound Artist
In the words of Justin Wiggans, he is an "Earth bound failed astronaut who was told I would blind when I was 6 years old.", and he started to navigate the world by sound and curiousity.
Justin will bring us an Internal garden, an incredible immersive experience. The demonstration will allow people to access nature via biosonification and haptic wearable technology. He will be performing with plants biosonic data to create a live responsive audio-visual piece. Audience members can feel the plant frequencies with the haptic backpacks, plant and person become one.
You can arrive from 17:30hrs with a 18:00hrs start.
We'll begin the evening with a networking session, followed by expert speakers and a facilitated discussion.
To end the event, we'll be showing a viewing of 'World of Ice' for one day only!
Green Minds 360
A special workshop and screening session to launch the start of the Green Minds 360 immersive film project, celebrating Green Minds Plymouth community-based work to date.
Green Minds inspires people to connect with nature through delivering rewilding and nature-based projects on the ground that increase habitats and species diversity.
The workshop will bring together a variety of community groups that have been involved in Green Minds projects to see some of their own 360 content, meet the film-maker and help shape the plans for the final film.
Featuring a screening of Bugs! A Rainforest Adventure
Bugs! is a live-action nature drama filmed in awe-inspiring, totally immersive 360. Shot on location in Borneo and in a purpose-built studio in Oxford, England, Bugs! explores the dramatic and savage lives of an Old World praying mantis and a beautiful butterfly, known by their Latin names, Hierodula and Papilio. This 40-minute feature combines incredible footage with cutting-edge technology to deliver a fantastically entertaining and enlightening experience about the little guys in life.