Meet the Printmakers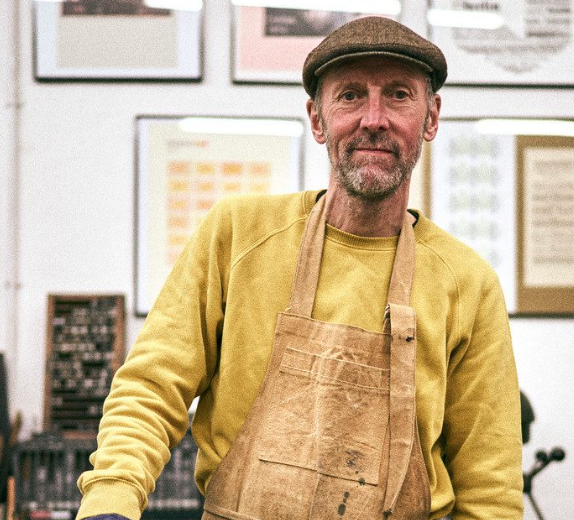 Nick Hand
Letterpress Collective
Nick Hand is one half of the Letterpress Collective. He collectively runs The Department of Small Works, a home for design, photography and print, residing in Centrespace, a cooperative of artists in Bristol.
Nicks collaborative printing practice often explores journeys across the UK and in Europe. Using his mobile press as a tool to engage and share knowledge through communities.
---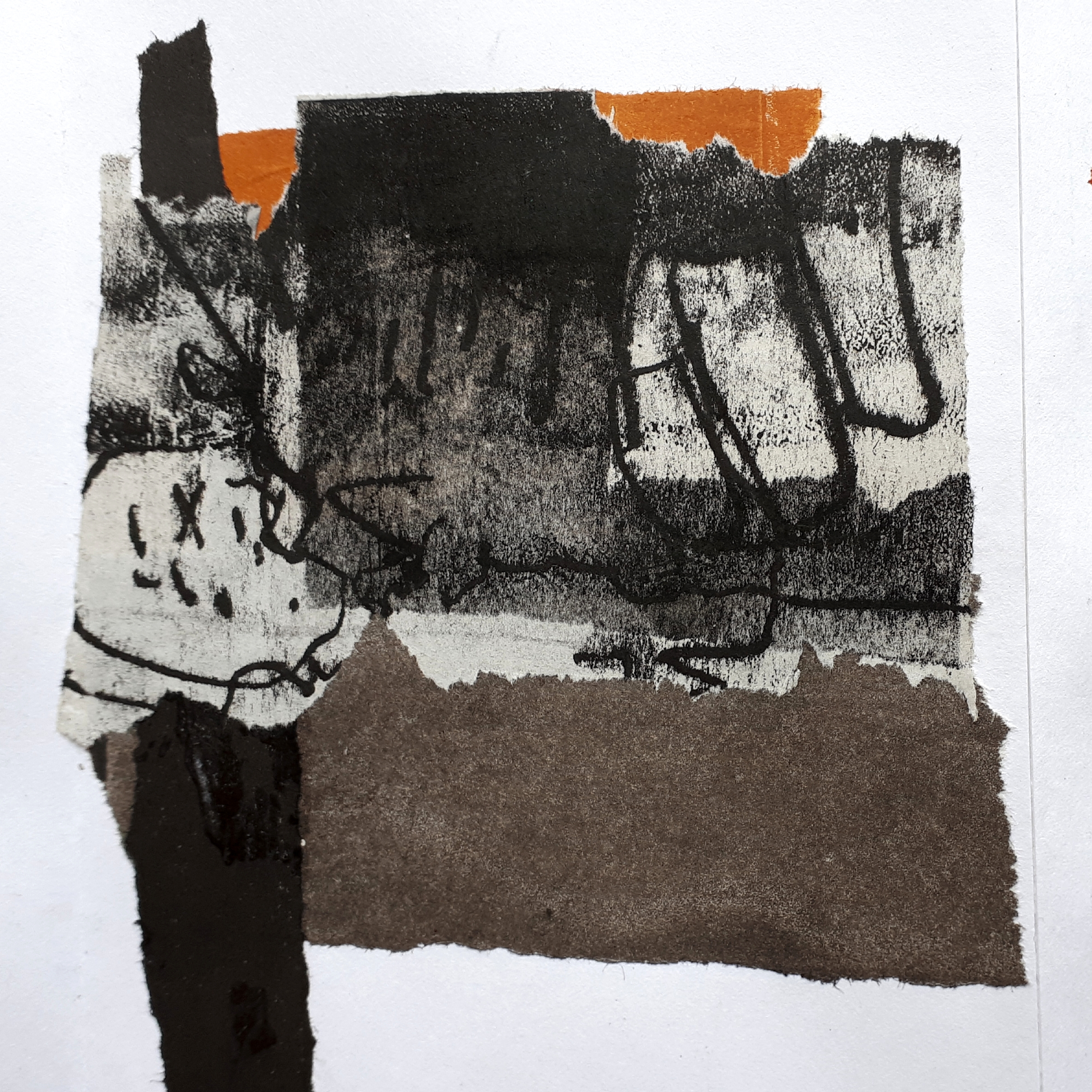 Anita Reynolds
Anita Reynolds is a British landscape printmaker & painter living and working in Devon. She is best known for undertaking large-scale immersive projects that often involve walking long distances. In 2012/13 she walked the 630 mile South West Coast Path and made a series of prints that combined the techniques of collagraph, drypoint, carborundum and mono-printing.
With the aid of an Arts Council award, the exhibition went on tour along with community workshops and artist collaborations. In 2023 she intends to walk the Cornish coastline again, this time making mixed media work incorporating printmaking techniques without a press whilst on the path. Ten years on she will undoubtedly see many changes in the landscape as well as in her own practice.
---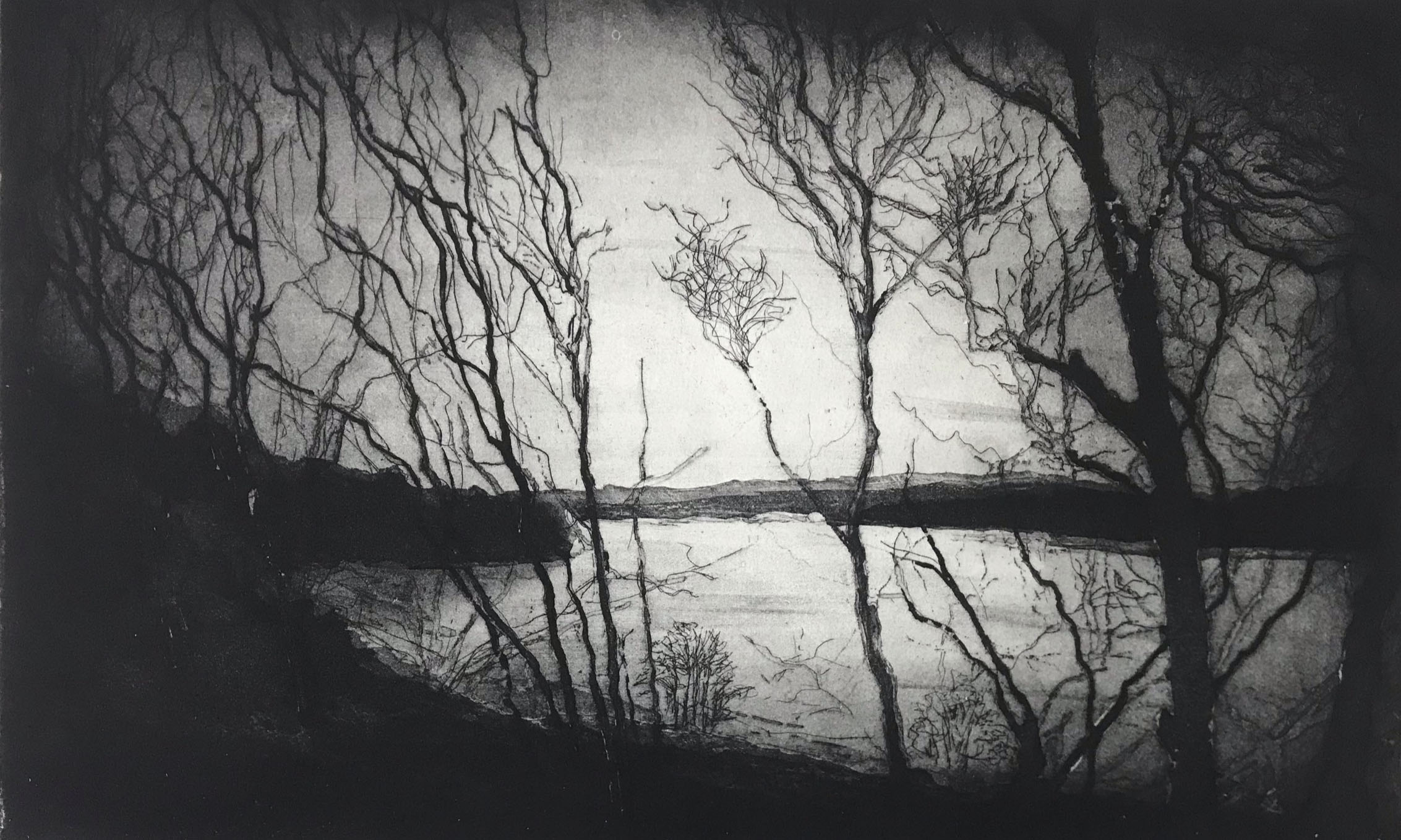 Mary Gillett
Tamar Valley Printers
Mary Gillett specialises in traditional etching. She enjoys the physicality of the process and loves the accidents that happen which give each print its unique character. She believes that it's often the imperfections in a piece of work that make it more exciting.
She exhibits extensively in the UK and her work is held in public collections and many private collections, both in the UK and abroad.
---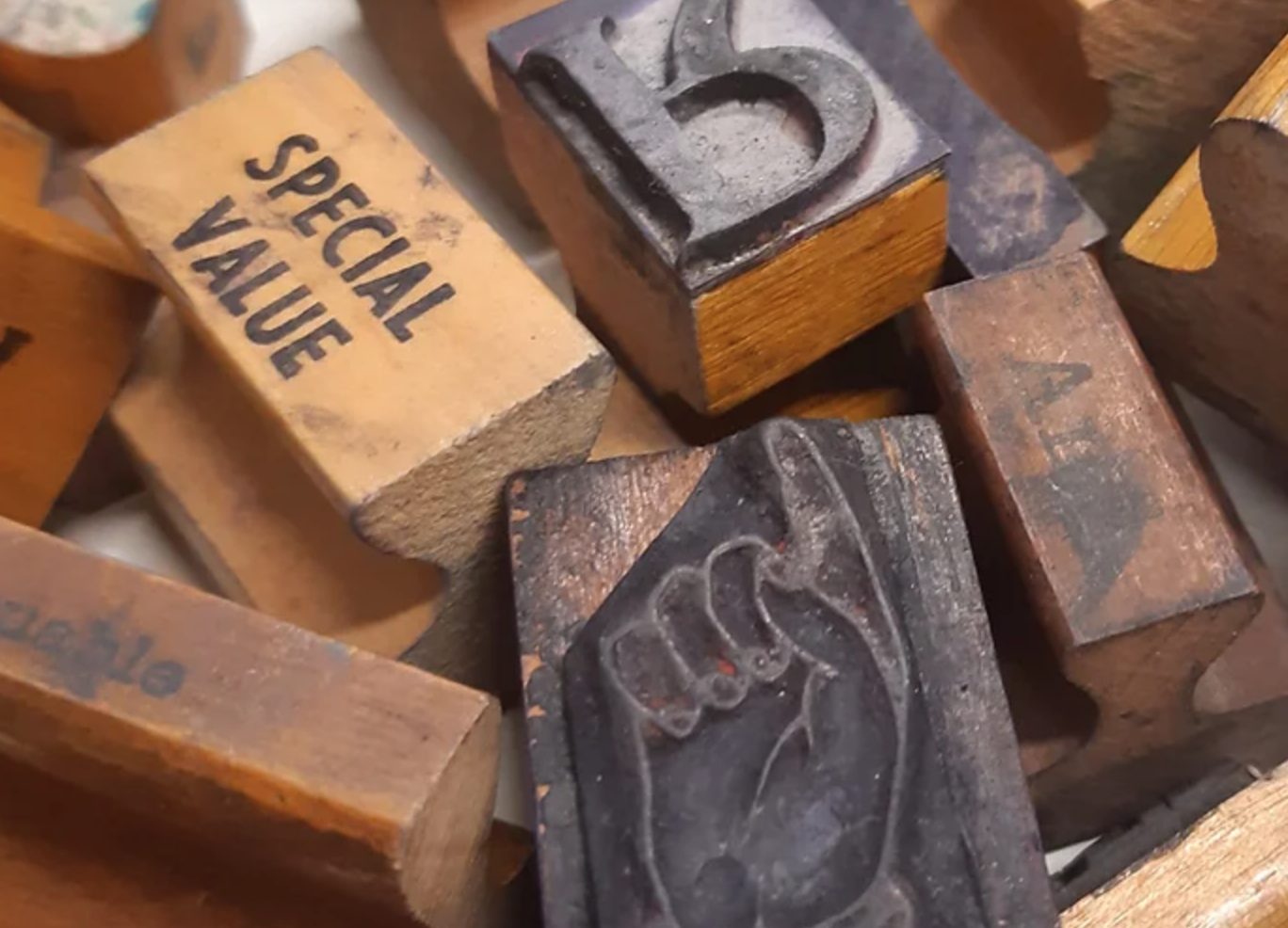 Bristol Print Collective
Bristol Print Collective deliver printmaking workshops in pop up venues in galleries, festivals and community spaces. Their aim is to keep the traditions of printmaking alive by offering accessible and engaging workshops for all members of society.
Bristol Print Collective was founded by artists Jemma Gunning and Victoria Willmott. The pair met in 2015 whilst studying an MA in Multi-disciplinary Printmaking at University of West of England, Bristol. They've found shared interest in discovering DIY lo-tech printmaking and explore creative processes to make printmaking workshops transportable without large equipment. In this way our workshops show how printmaking can be enjoyed outside of a studio in any environment and for all ages and abilities.
---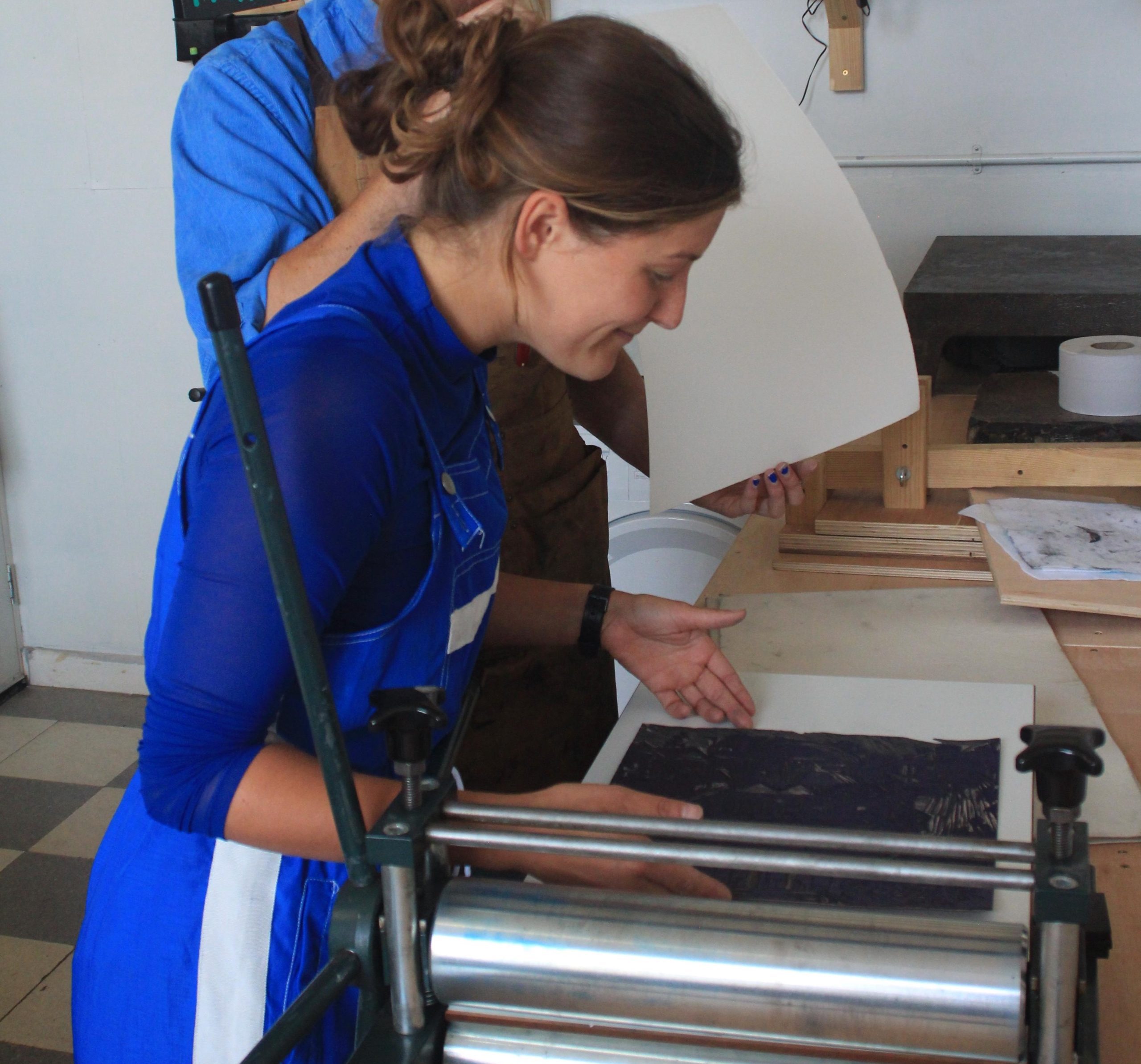 Sonja Burniston
Bristol Print Collective
Sonja is a collaborator, facilitator and visual communicator.
With her foundations in Illustration, Sonja moves between making work in response to a company or individual's vision or from her own perspective. In her posters, narrative booklets, digital illustrations and wall hangings she uses fluid shapes and bodies to communicate in warm nostalgic colours.
She is one half of Blue Roll Press a mobile printing duo, together with Luke Wade and is part of Bristol Print Collective.
---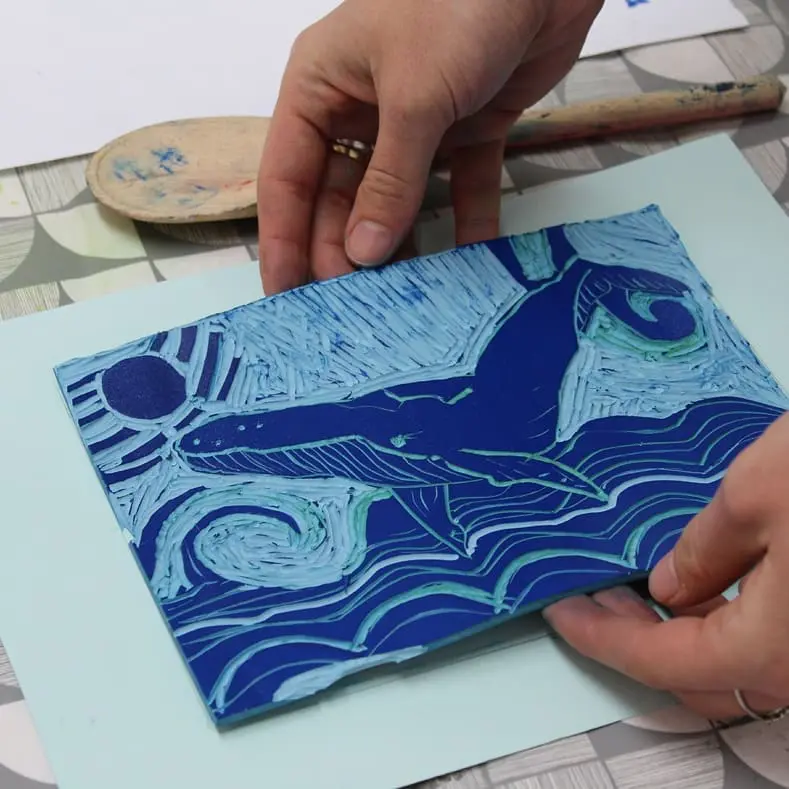 Jemma Gunning
Bristol Print Collective
Jemma Gunning is a printmaker and part of Bristol Print Collective, who deliver printmaking workshops in pop up venues in galleries, festivals, and community spaces. Their aim is to keep the traditions of printmaking alive by offering accessible and engaging workshops for all members of society.
Bristol Print Collective was founded by artists Jemma Gunning and Victoria Willmott. They met in 2015 whilst studying an MA in Multi-disciplinary Printmaking at University of West of England, Bristol. They found that they each shared an interest for discovering DIY lo-tech printmaking and explored creative processes to make printmaking workshops transportable without large equipment.
---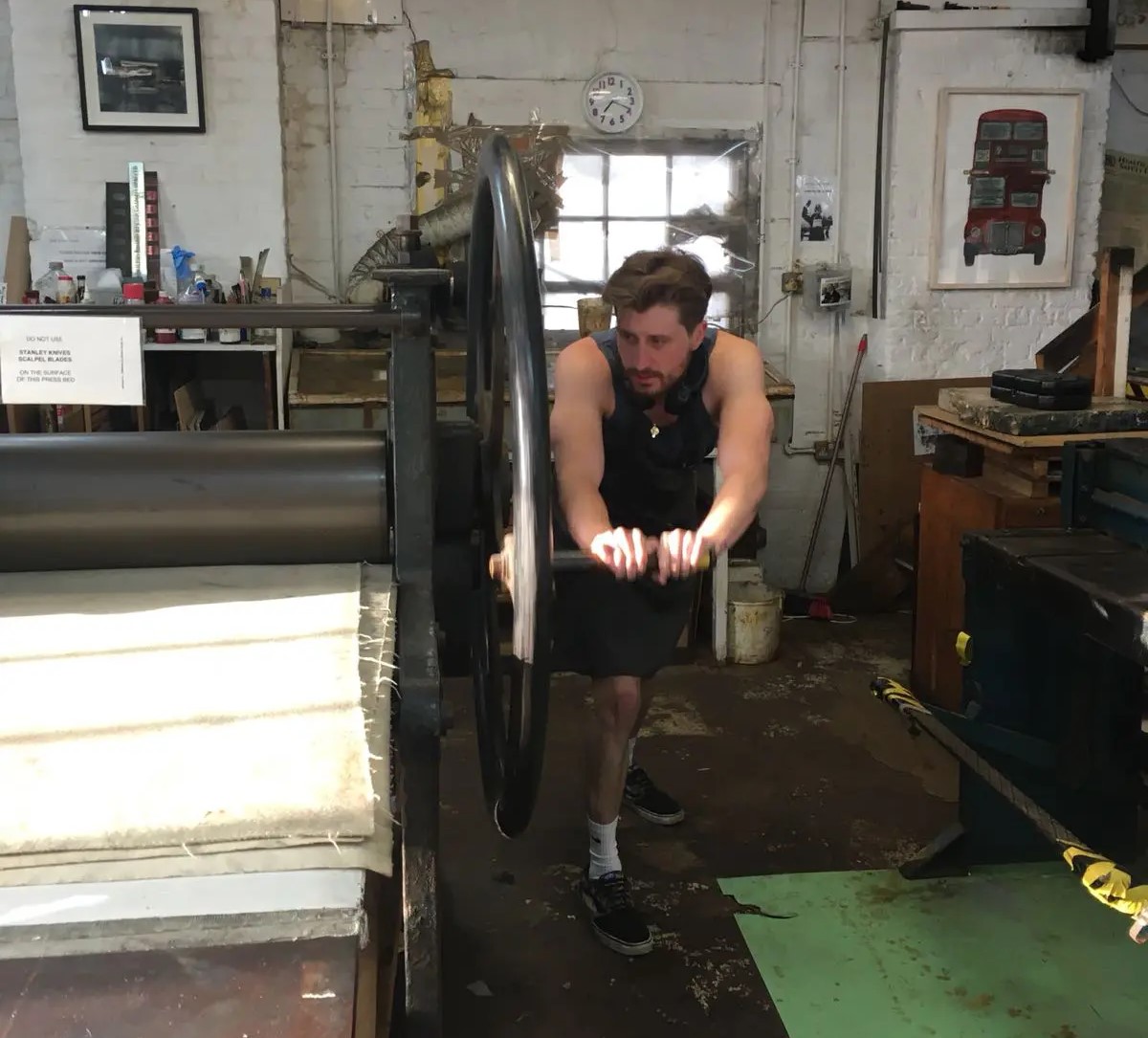 Luke Wade
Bristol Print Collective
Luke Sebastian Wade is a draughtsman and a printmaker who is preoccupied with collapse and threat. This draws him to scenes of conflict, areas of societal tension and emerging dangers in the Western world.
When this proves too overwhelming to deal with, he retreats into simpler territories, the taxonomies of objects that he likes to render in detailed relief work.
---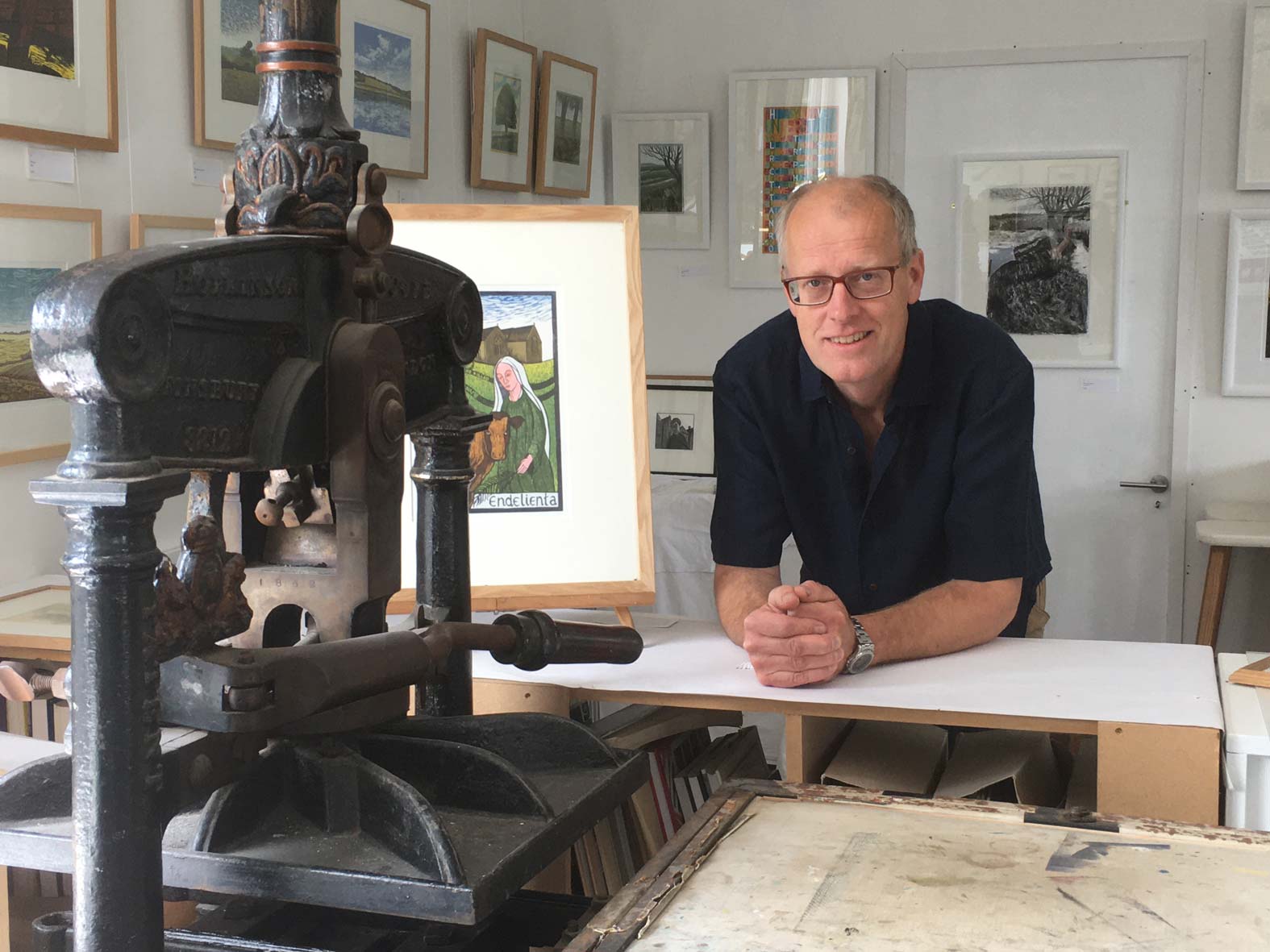 Peter Ursem
Peter Ursem is an artist and writer. He grew up in The Netherlands where he graduated in literature from the University of Utrecht and drawing, painting and printmaking from the Royal Academy of Fine Arts in The Hague. He moved from the Netherlands to Dorset in 1998, and from Dorset to Cornwall in 2011, where his current studio overlooks the Tamar Valley.
As an artist he specialises in multi-coloured lino prints, as well as in drawings and paintings. The landscape is a main theme, with a special interest in landscapes that radiate 'Genius Loci', a spirit of place that hints at invisible connections and stories that may have gone on before.
---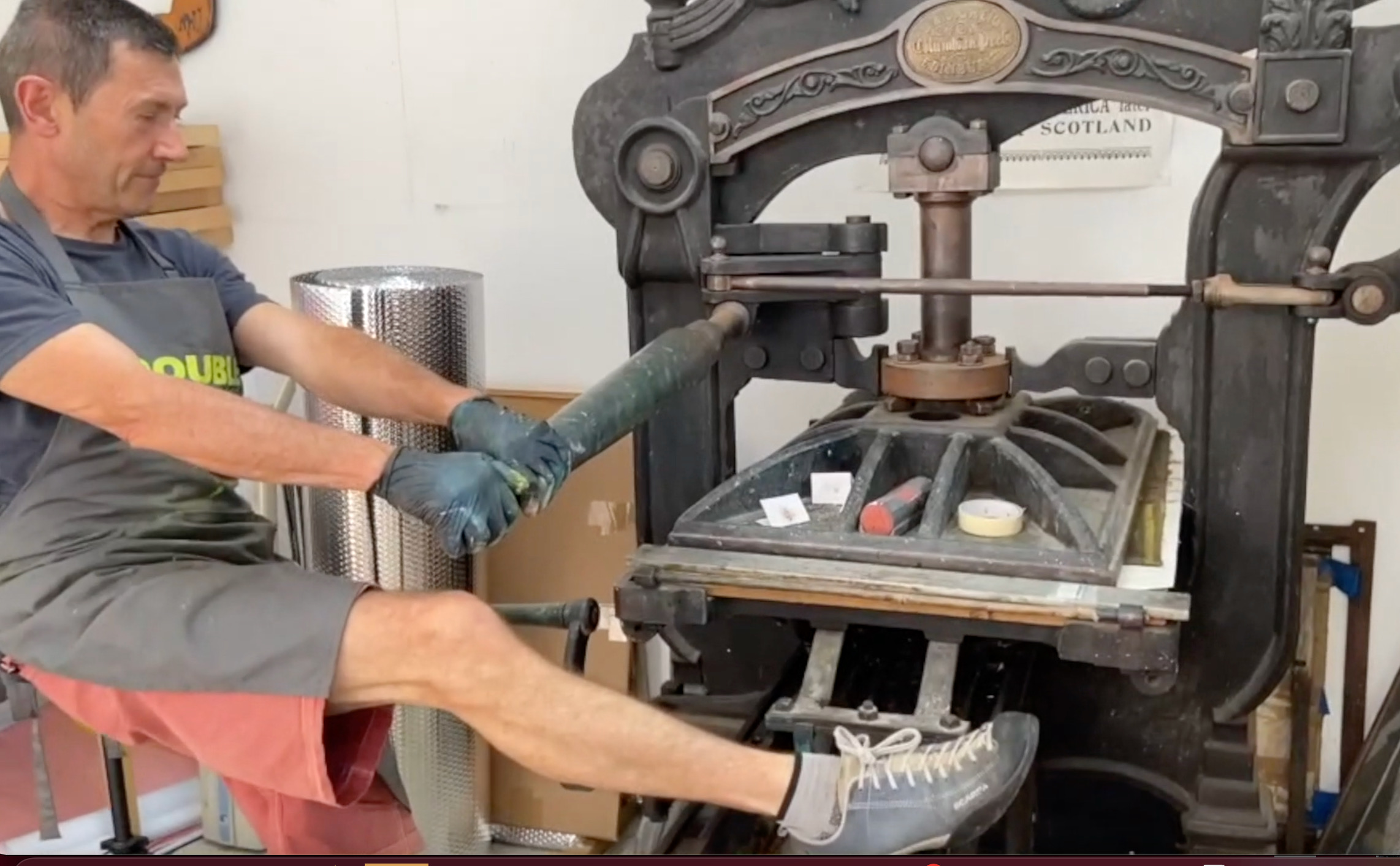 Simon Ripley
Simon Ripley graduated in Fine Art from Plymouth University in 1996 and helped to set up Exeter's Double Elephant Print Workshop – now in its 25th year. With Double Elephant Simon specialises in outreach – taking print to schools, hospitals and community settings across the South West.
Simon has worked as artist in residence at Derriford Hospital, Musgrove Park in Taunton and Franklyn Hospital in Exeter. He has taken a particular interest in printmaking with adults with poor mental health and has contributed to suicide prevention projects in Torbay and with MIND. In 2015 he took a residency in Flatbed Press in Austin, Texas – which led to new avenues for his work.
---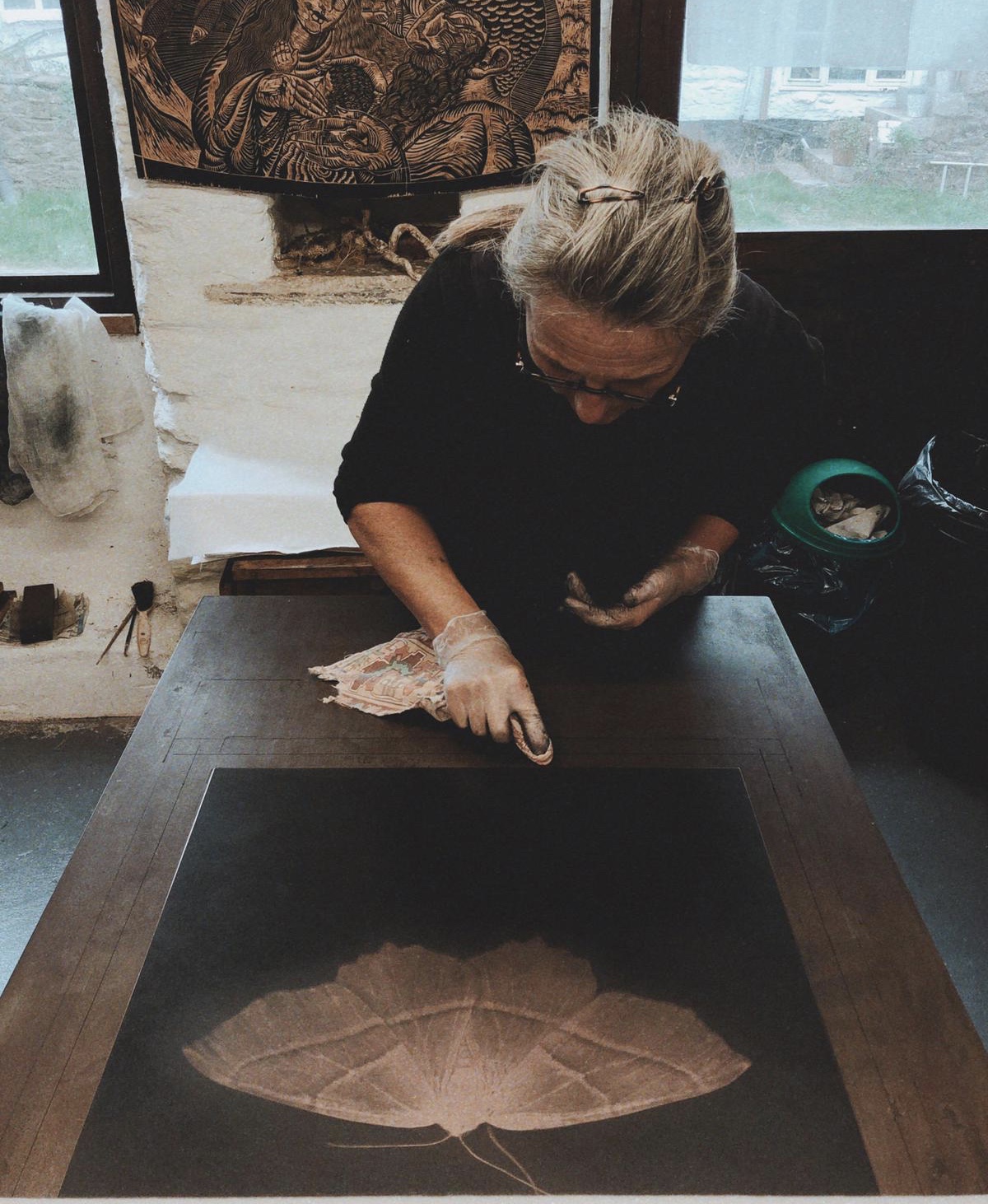 Sarah Gillespie
Sarah studied 15 & 16C methods and materials at the Atelier Neo-Medici in Paris for one year before going on to Oxford University to read Fine Art at the Ruskin.
Gillespie's drawings and mezzotints have been exhibited and collected internationally. In 2021 the entire suite of moth mezzotints were acquired by the V&A in London for their permanent collection.
Her primary interest is in making an art that is devoted not to self-expression but to the fragile lives of our fellow sentient beings – moths, trees, and birds. Gillespie believes the practice of paying attention to the more-than-human world to be a radical form of art in and of itself. We are asked not to notice so much of what goes on around us. She believes that to refuse not to notice, to heed, to attend, to be 'in conversation' with our fellow beings, to love and to all.
---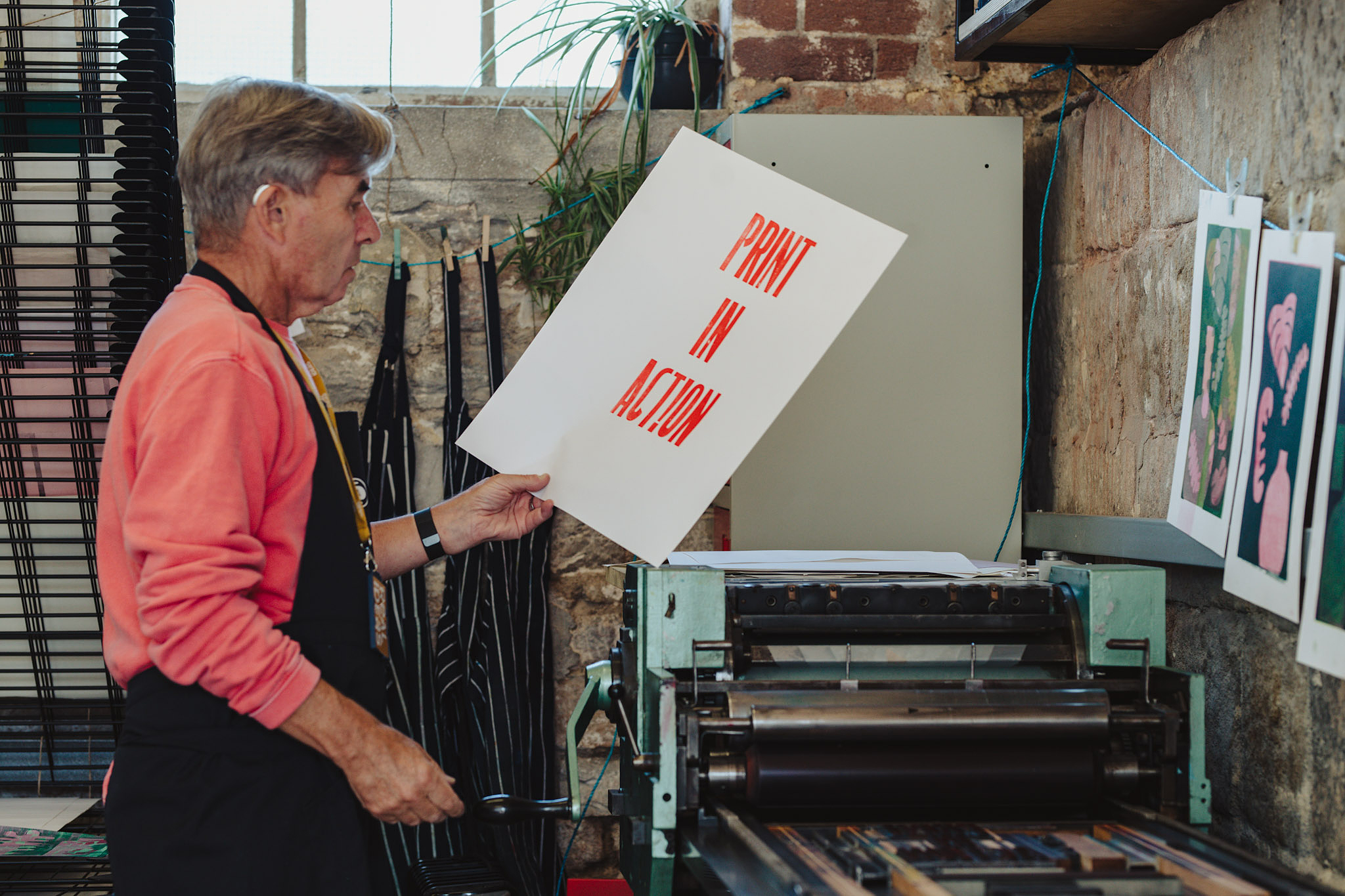 Alan Qualtrough
Alan is a former newspaper editor and journalist, now a graphic designer, typographer, community publisher, and letterpress printer.
"I fear for our future (and present) if we cannot stop the current flood of lies, clickbait and bias we are fed daily in mainstream media. Join me in the fightback with critical engagement and giving people who are not usually heard a voice."
---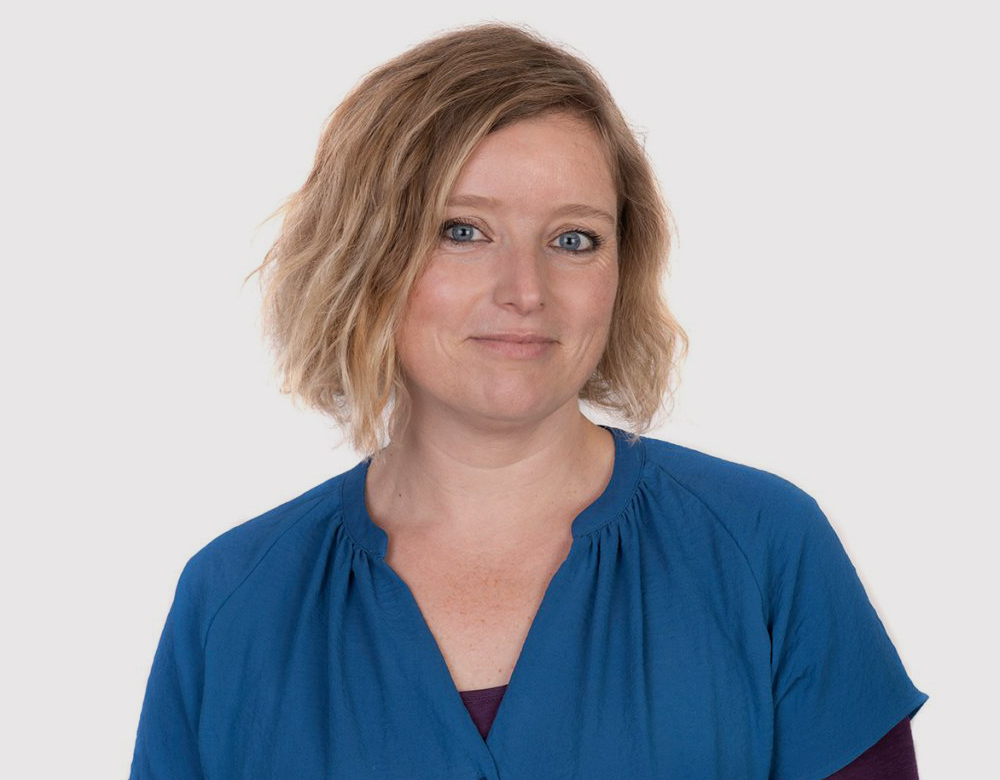 Sam Spake
Trained at the Ruskin School Oxford University, Sam Spake develops images using old technology drawing and print techniques, using the transitions between image capture and translation to question iconography. Committed to mark making as a primal form of sensory expression, Sam explores the phenomenology of image making when interpreted via remotely capture, haptic interfaces made human. A multimedia artist, Sam's wider work is strongly influenced by Brian Catling's weaving of present and past, magical realism and temporal performances and works across performance drawing, installation, painting and sculpture in response to project ideas.
Sam is also a skilled facilitator, working with young people particularly, with a focus on giving agency and validation to early creative expression, either as a career starter or as a journey into well-being and self-awareness. She currently works with Real Ideas, supporting participants to develop their work and develop their practice into enterprises.
Additionally, Sam works as a musician and violin teacher.
---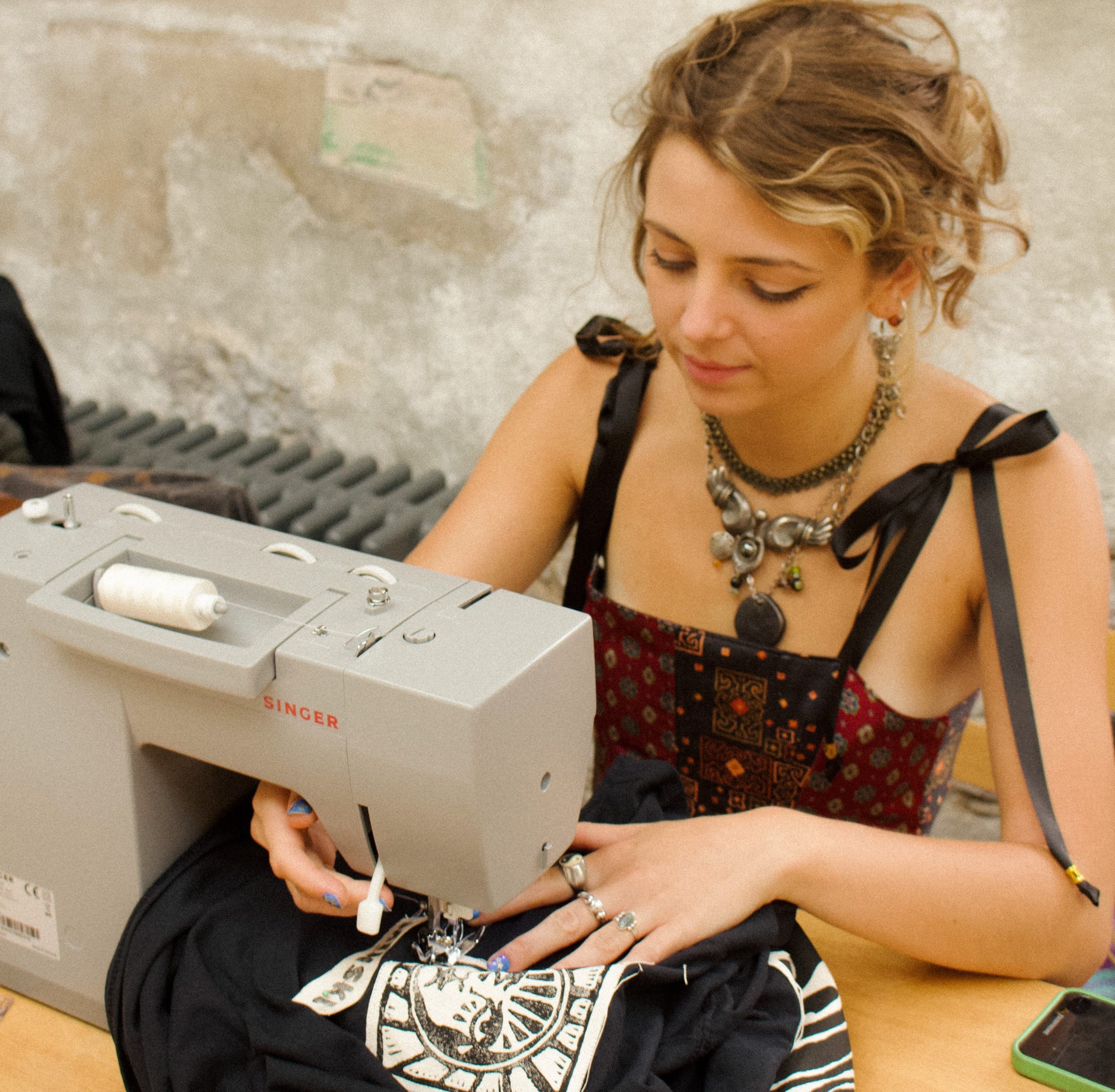 Nina Westwood
Nina Westwood is the founder of MINSKI, an independent UK-based slow fashion collective with a focus on creating sustainable and funky clothing using a variety of hand crafting techniques.
MINSKI will be making an appearance at Print in Action Festival alongside vintage clothing brand, The Original Fruitcakes, in some exciting Print Parades!
"I make screen printed and block printed fabrics which I then turn into a variety of funky clothing and accessories. I love to print onto fabric so that I can sew it up and turn my prints into functional, wearable pieces that you can show off wherever you are."
---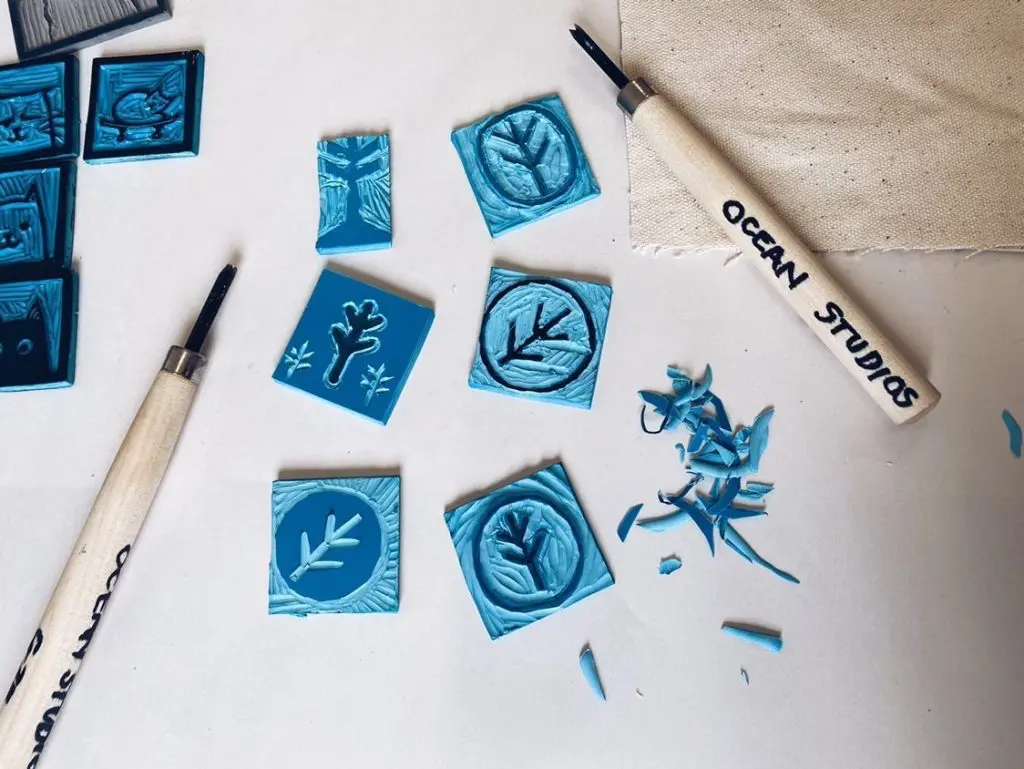 Ismay Berncastle
Ismay Rose Berncastle is a multi-disciplinary artist practicing in Devon and Cornwall. She is currently in the third and final year of her Painting, Drawing and Printmaking degree at Arts University Plymouth, where she is specialising in portraiture. Although paint is currently her main medium, the artist uses her experience in drawing and printmaking to inform her practice.
During Print in Action Festival, Ismay will be hosting a fun workshop. At Ismay's Print a Patch Workshop you will get the opportunity to learn the basics of lino cutting and use your new skills to create unique sew-on patches to bring new life to your old clothes. You will be supported throughout by an experienced printmaker who will guide you through the process from start to finish to help you to expand your knowledge, make some great patches to take home, and have fun while you do it!
---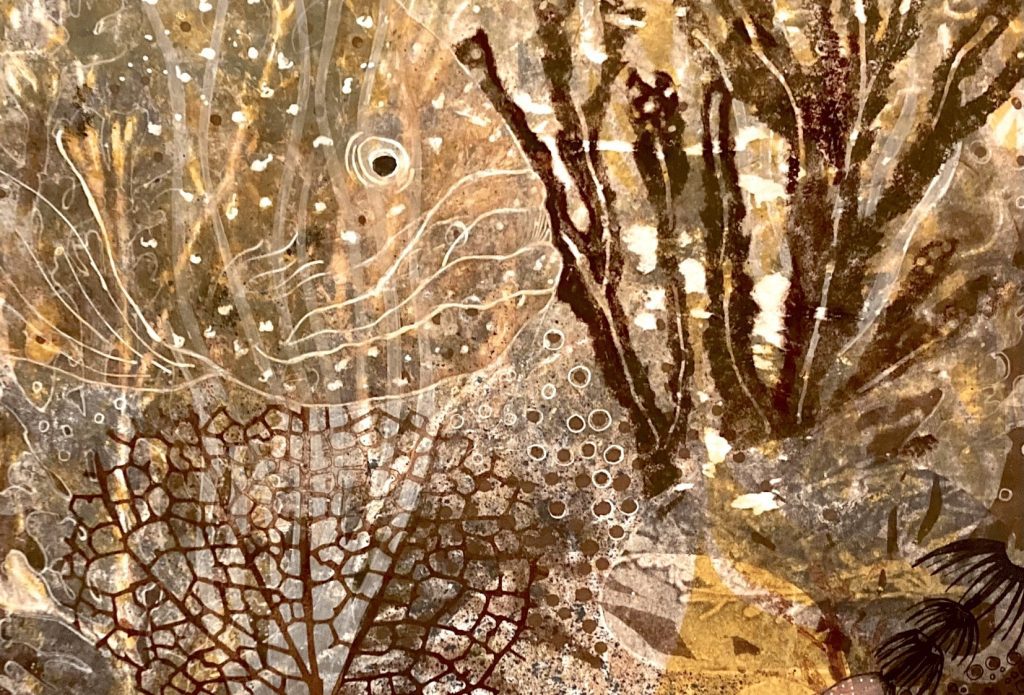 Beth Munro
"I graduated Middlesex Polytechnic in 1990 with a degree in Fine Art and Spanish. In 2013 I re acquainted myself with Printmaking and began making work that reflected my lifelong passion with the natural world. As a professional Printmaker I use various printmaking techniques to best describe the subject of an image, be it Etching, Drypoint, Linocut or Monoprint.
I like to showcase individual species, drawing attention to their beauty, their personalities and in some cases their vulnerabilities. I often include some human element in my images to remind us of the symbiotic relationship we have with the natural world and of our ability to protect and secure it for the next generation."
---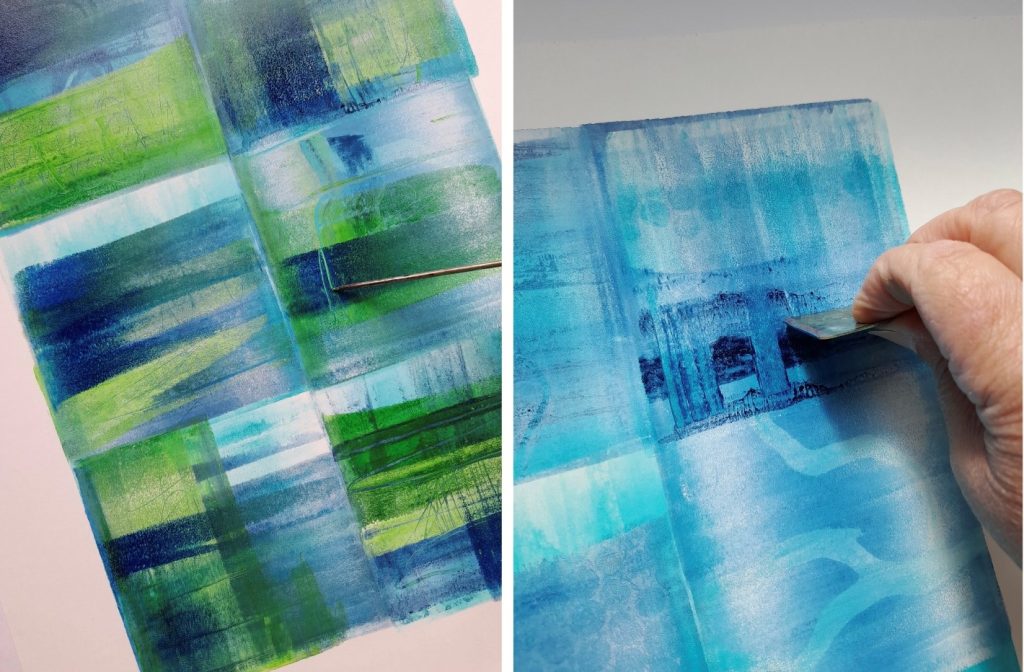 Sarah Gregory
Printmaker Sarah Gregory will be hosting a workshop during Print in Action Festival. Fragments in Landscape' is an introduction into the creative process of transferring marks from the palette directory onto the papers surface using a hand held roller. With Sarah, you will explore a range of mark making techniques and the effects of layering with colour and tone. We caught up with Sarah to find out more about her practice.
"Living in beautiful Devon, close to the coast and moors provides an abundance of inspiration for my practice. I love the textures of corrosion, the silver hue of bleach, weathered wood and the rich appearance of rust. I see the beauty within natures canvas and quite often in the grimy stains on dilapidated buildings. My work is a representation of the urban and natural environment we now live in, portrayed through a hybrid technique where painting and printmaking find a happy and compatible relationship."
---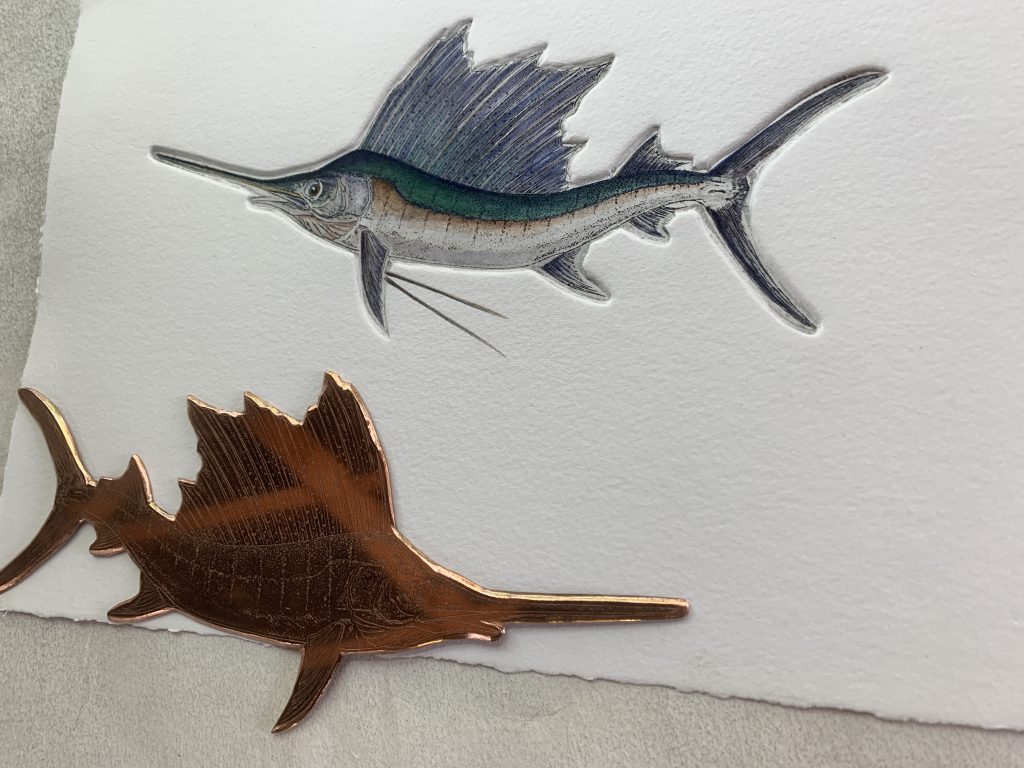 Debby Mason
Debby is an am an international artist printmaker, living in Plymouth. During Print in Action Festival she will be hosting a masterclass, working on a Lino cut from a drawing of plankton and printing cards with a small relief press. She will also be beginning to draw into the wax ground on a copper plate for a new etching of a Sprat.
"I specialize in etchings, mezzotints and illustrations of wildlife. I have a BA (Hons) degree in Printmaking and my work has been exhibited in Royal Academy Summer Exhibitions and featured in scientific publications."