Print in Action Festival is here!
Join us for Print in Action Festival
22nd– 23rd October 2022
Ocean Studios
Royal William Yard, Plymouth
Visit us at Ocean Studios, in Royal William Yard, and additional Print in Action hubs across the city from 10am each day to explore exhibitions, collaborations, demos, talks, workshops and masterclasses from local and national printmakers to celebrate print in all its inspiring forms!
Ocean Studios will act as the main hub for Print In Action activity across the two days dedicating all corners of the building to printmaking in all shapes, forms and sizes. Driven by Real Ideas Members and collaborators from across the South West, Print in Action is a moment to get inspired, bring the creative community together and try something new.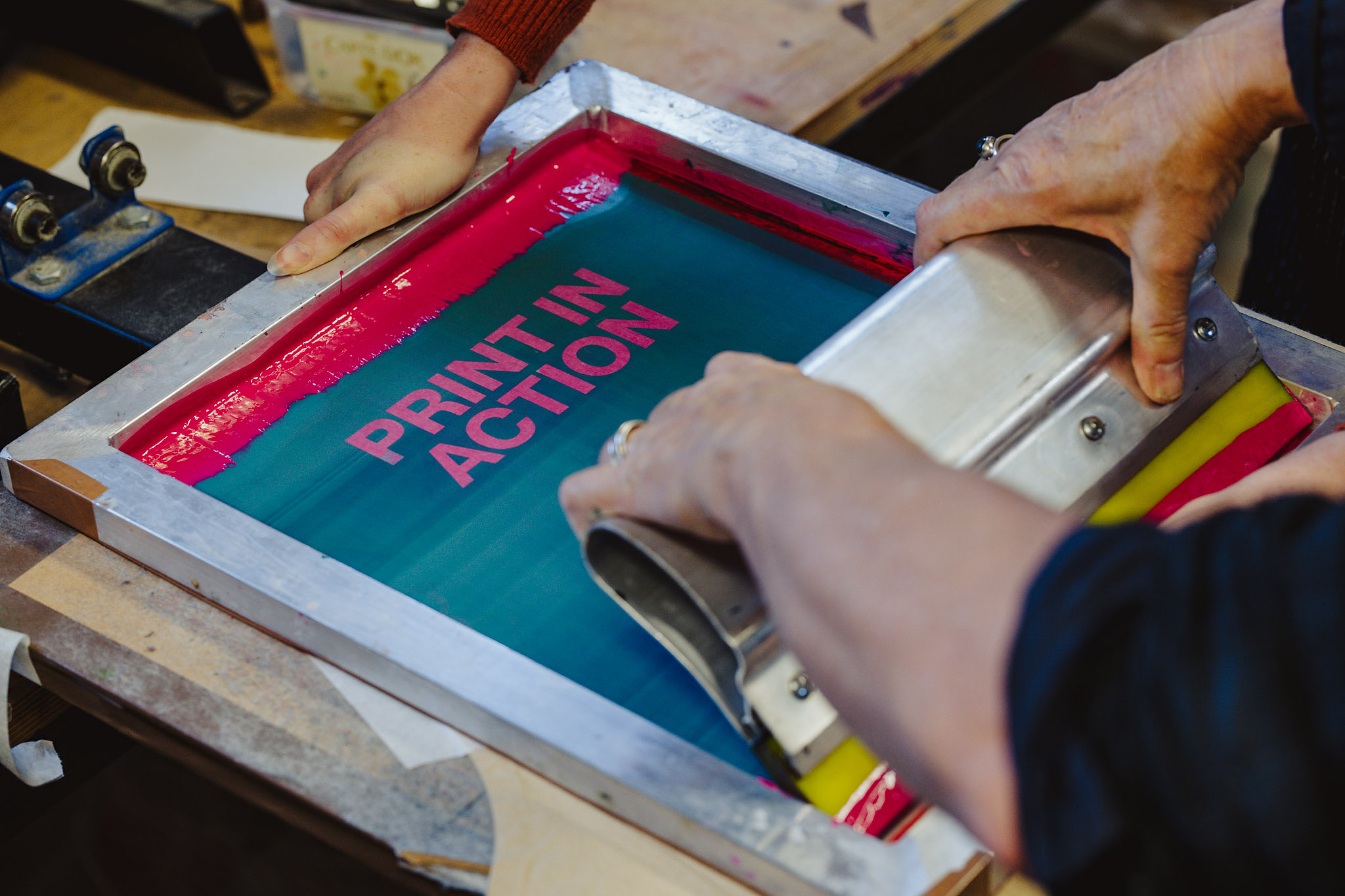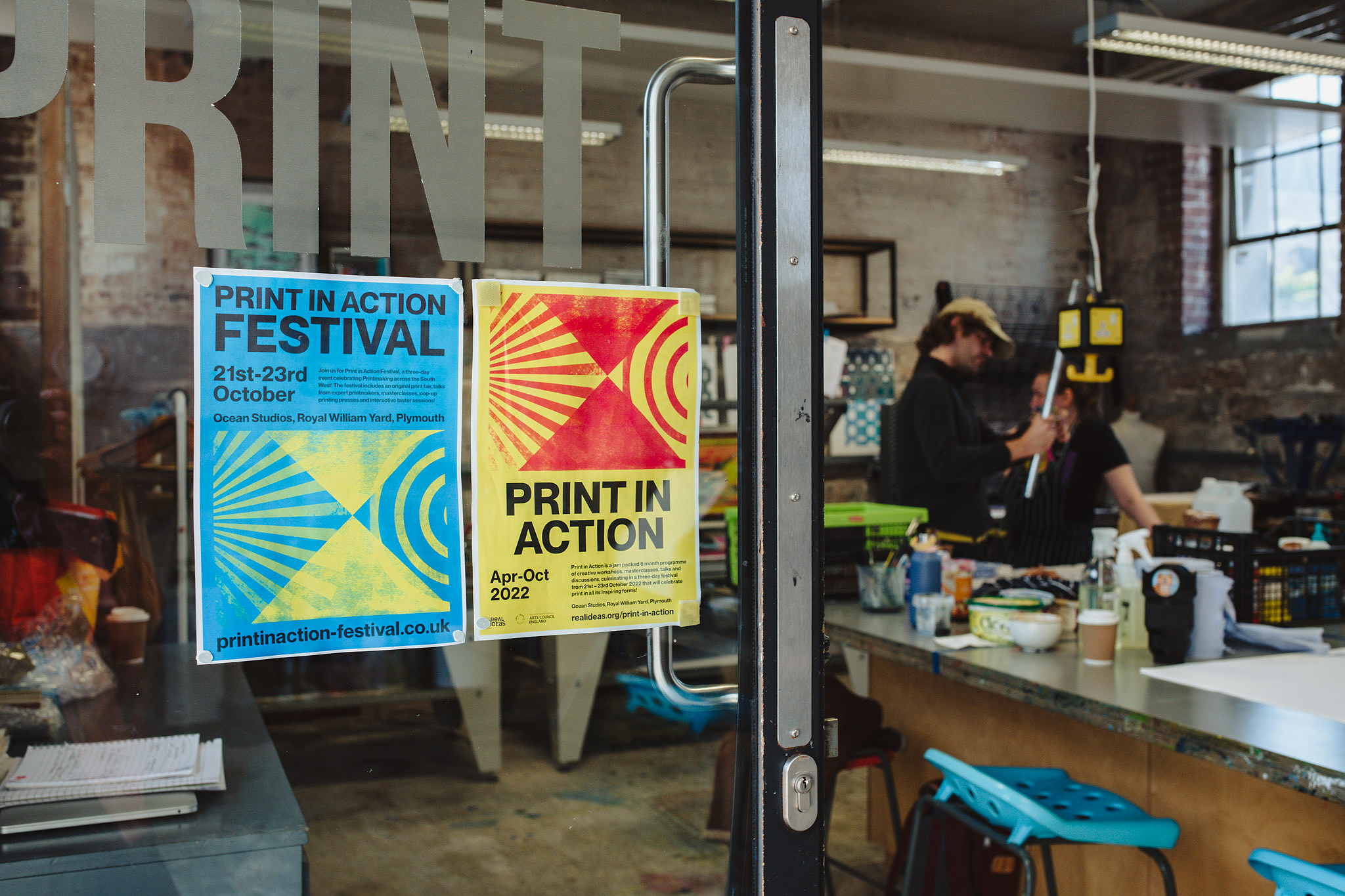 ---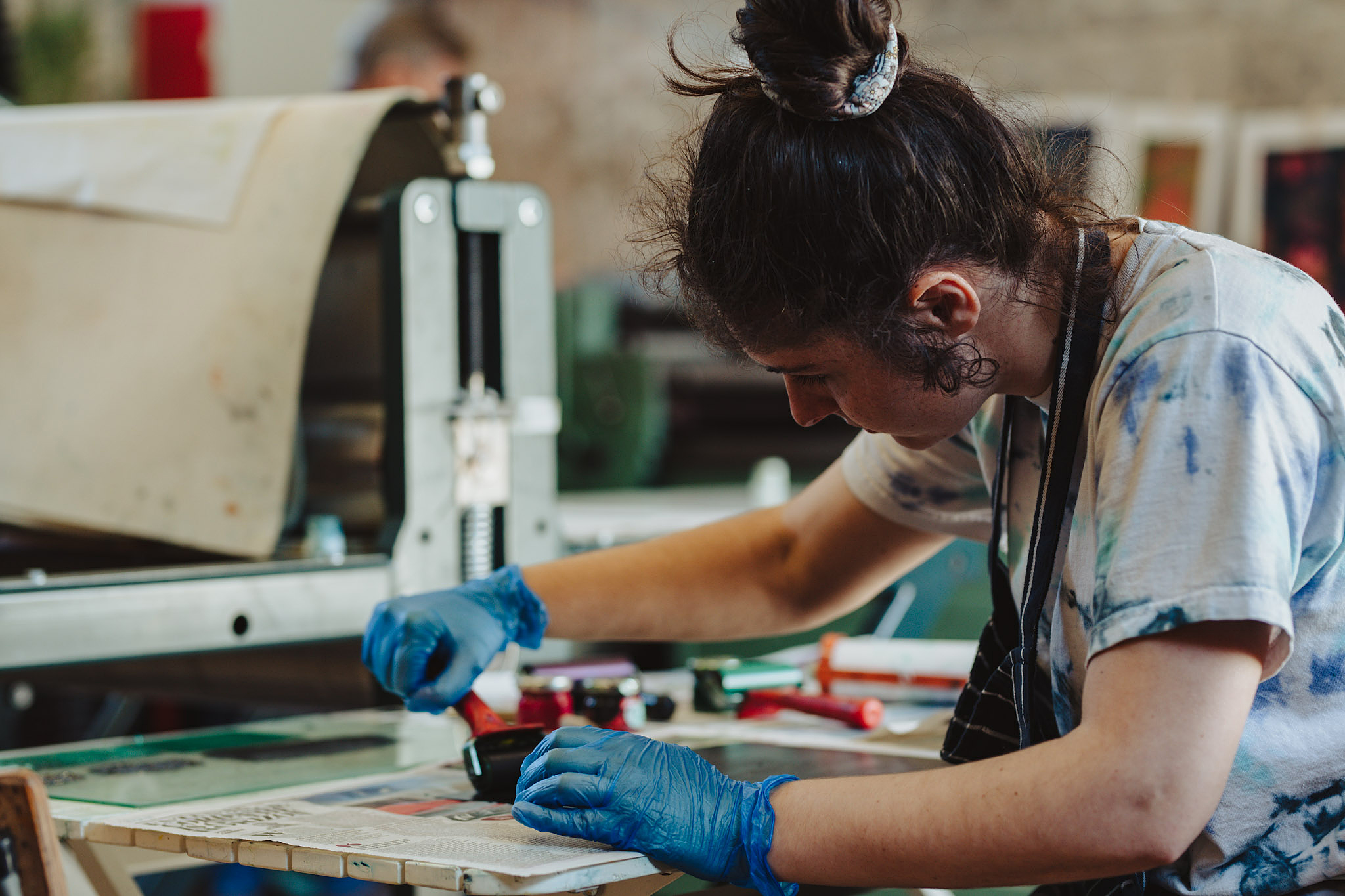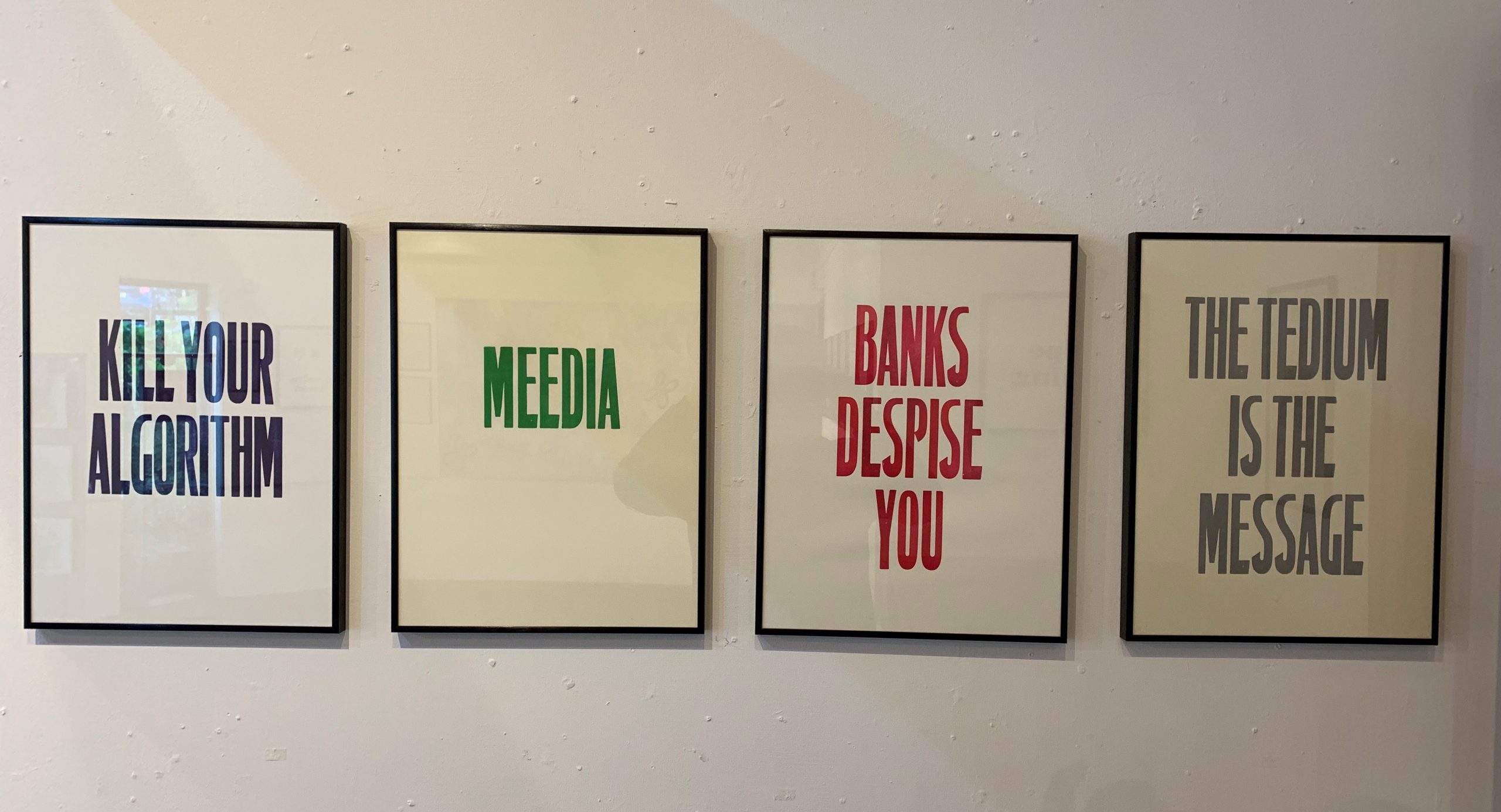 Explore the festival!
During the festival you'll get a chance to rummage through our pop-up print shop, view exhibitions and explore and meet upcoming printmakers, suppliers, initiatives and organisations, including Pressing Matters, G.F Smith and IMPACT 12, The Printery, Ironbridge Fine Arts & Framing and Daisy Laing Gallery.
#PrintYourAction
Whether your an experienced printmaker or having a play with print for the first time, day ticket holders will have the opportunity to take part in a series of community collaborative printing demos and workshops including, 'On a Roll' and 'Stamp & Go' with Bristol Print Collective, carving a large-scale linocut based on their adventures discovering Plymouth's Marine Park.
You can also #PrintYourAction on our live 'Truth Wall' spanning across the courtyard at Ocean Studios, creating visual messages to speak up about what you feel is important in the world, using a range of letterpress, screen printing and mono printing techniques.
---
Interactive workshops and so much more!
Whilst the Truth Wall is evolving, across the weekend Alan Qualtrough will discuss Print and Protest, plus independent printmakers including Mary Gillet will be shedding some light on her inspiring practice in the Tamar Valley.
Join us in conversations with Double Elephant discussing their research project 'Mapping the South West' and meet Nick Hand as he talks about his printmaking journeys on a portal bike press. Bristol Print Collective will also be on hand to share what's important about being in a collective and the spirit of collaboration.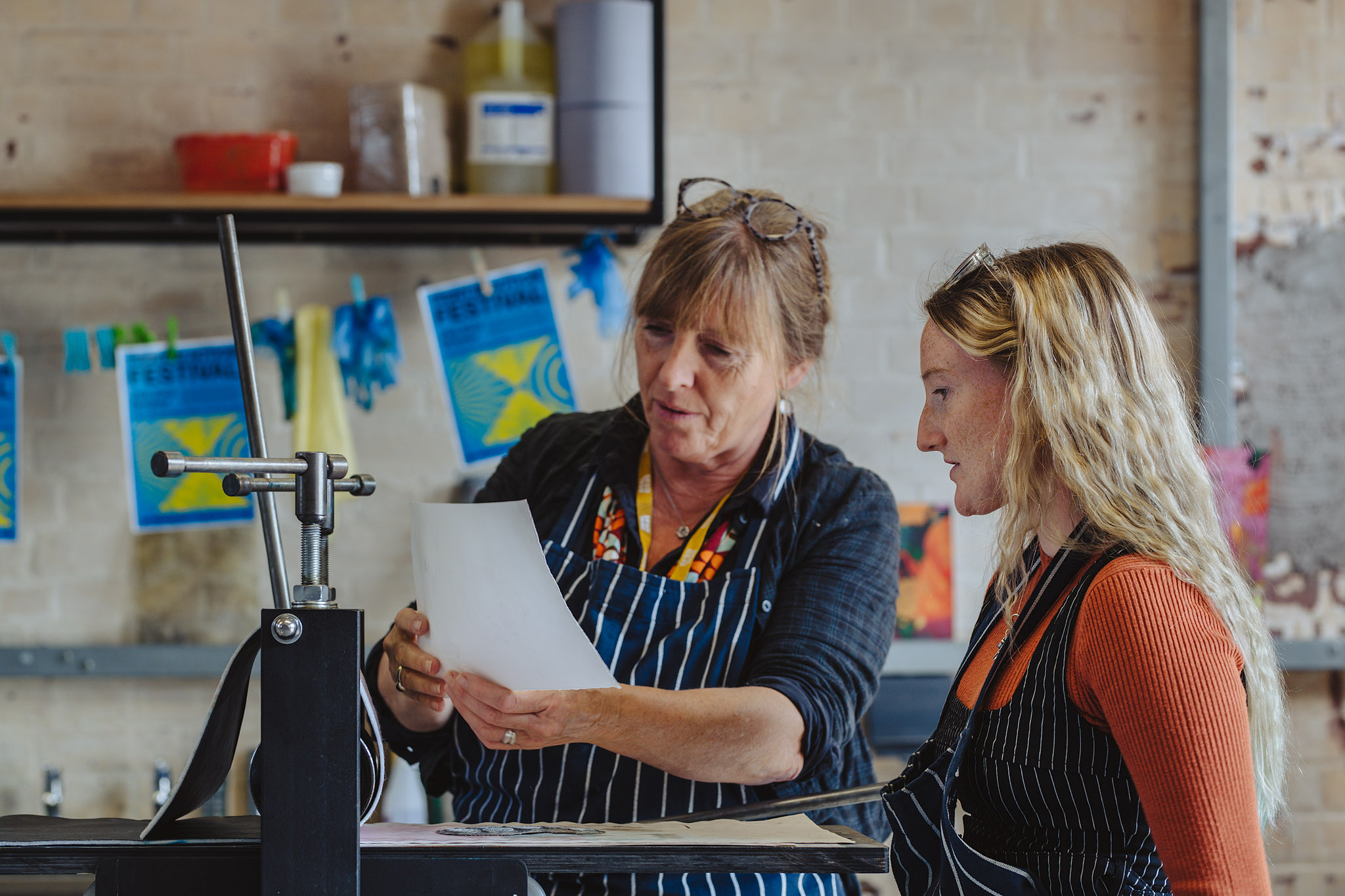 ---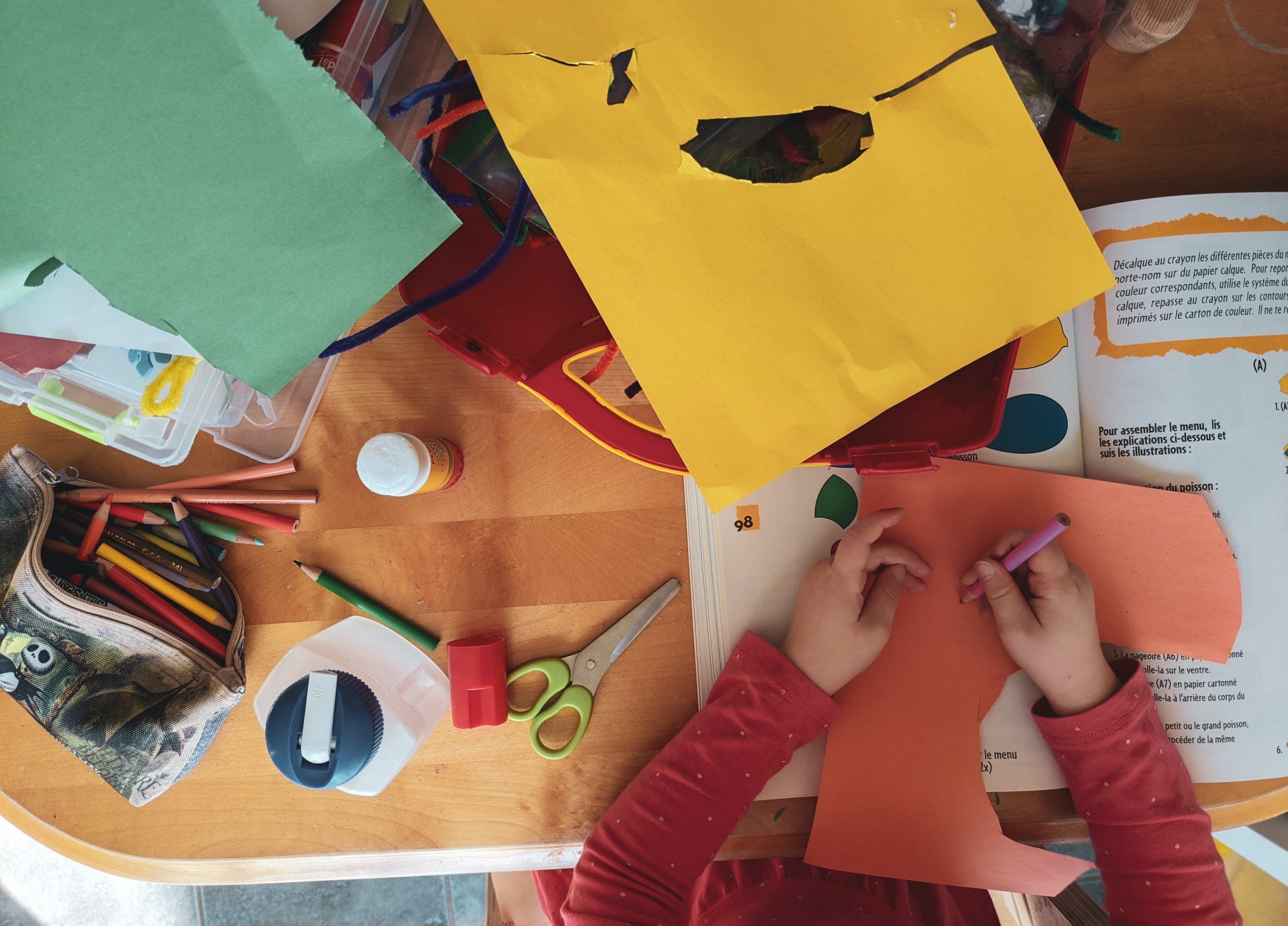 Activities for little ones!
Come and explore the world of print!
Bring your little ones along for a series of family friendly activities across the Festival weekend. We're welcoming artist and facilitator Theo Carter to hand print your very own spirit animal, Mini Makers will be back with a print themed special, plus we'll be sharing how we can inspire your family to create your own Immersive print and be part of Plymouth's first series of digital print exhibitions in the Market Hall, 360-degree immersive dome!
---
Exhibitions
We're excited to be hosting an open submission exhibition throughout the duration of the festival, talented print makers from all over will be bringing and showcasing their incredible artworks for visitors to enjoy! Grab a coffee from our café and take a wander through the historic walls of Ocean Studios exploring their artwork, whilst exploring, who knows, you might even find the perfect print to take home with you!
Alongside our open exhibition we've welcomed Bristol Print Collective to create a collaborative site-specific project drawing inspiration from Plymouth's Marine Park. The project will culminate in an exhibition and a collaborative print carving session during the festival, plus you'll also be able to browse their stall to learn more about what they do! The group welcome you to engage in a talk discussing their work and 'Being part of a Collective'.
Who are Bristol Print Collective?
Bristol Print Collective deliver printmaking workshops in pop up venues in galleries, festivals and community spaces. Their aim is to keep the traditions of printmaking alive by offering accessible and engaging workshops for all members of society.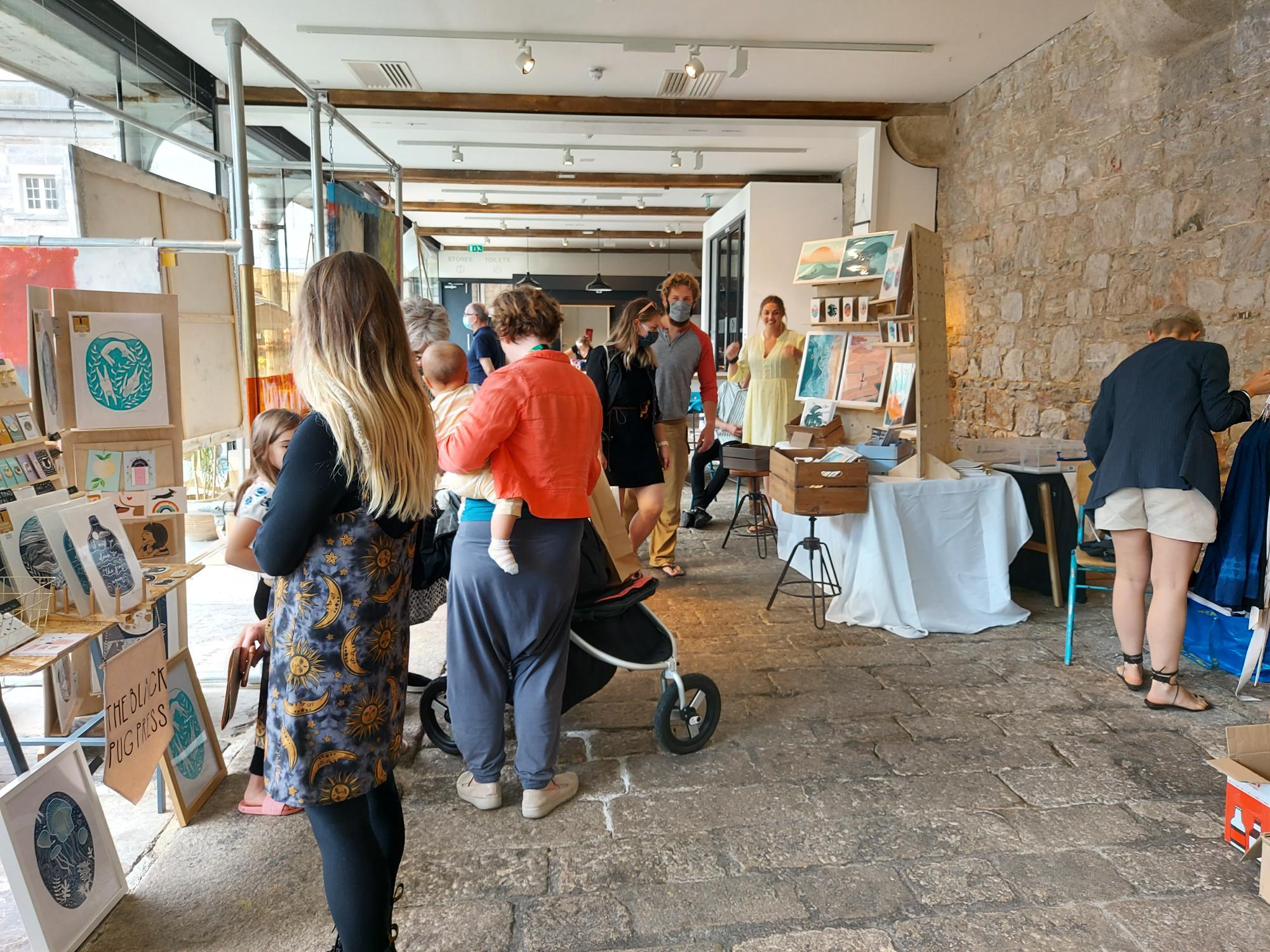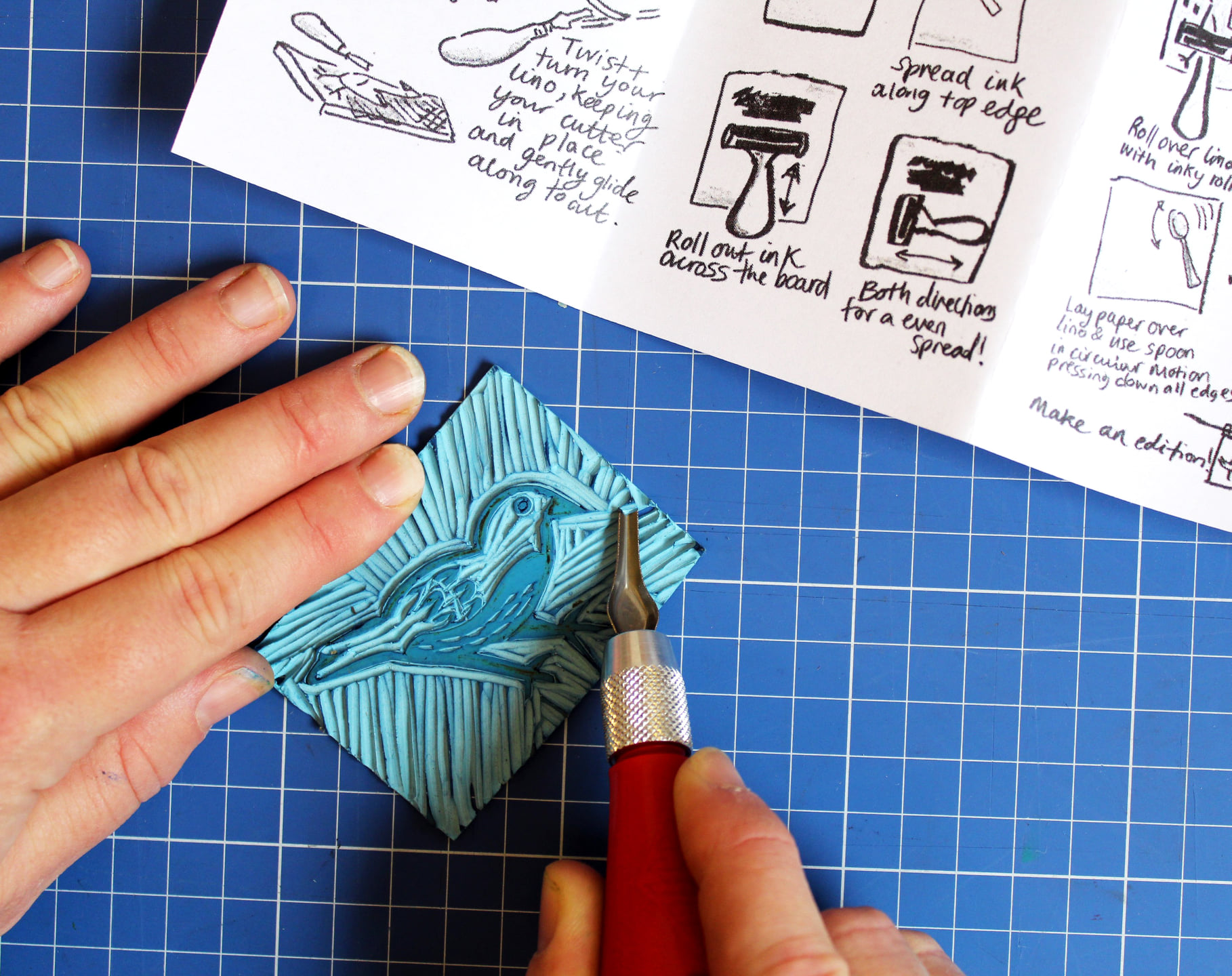 ---
Explore our vibrant print hub!
Whilst at the festival there will be opportunity to experience the vibrant print hub and specialist facilities at Ocean Studios! Find out how you could join the community of makers and talented artists including resident printmakers Alan Qualthrough and Beth Munro. Alan and Beth will be joining forces to work on the Print in Action Truth wall, learn about their practices and print your action, a message to shout about something you're passionate about, policial, social or environmental.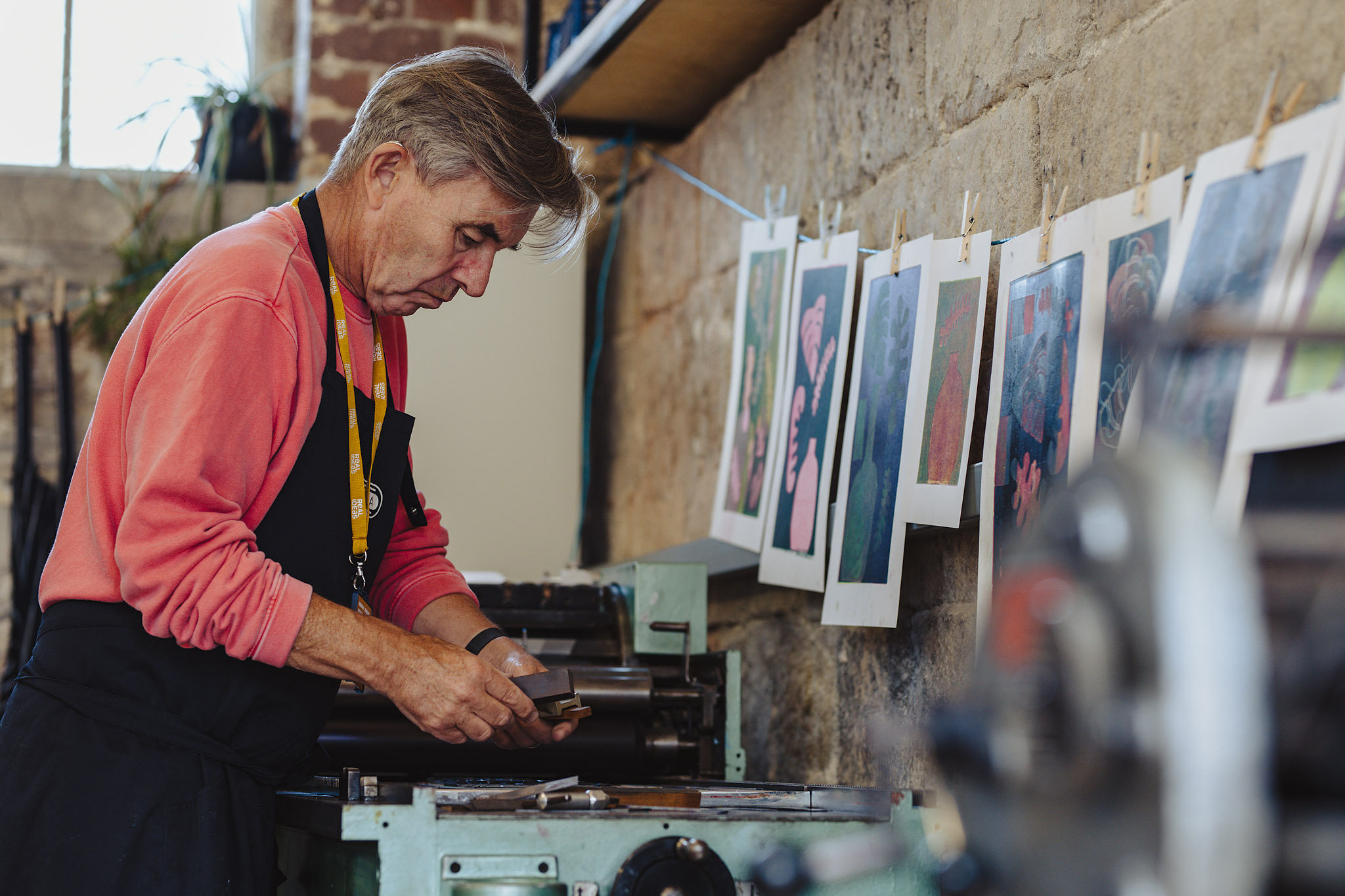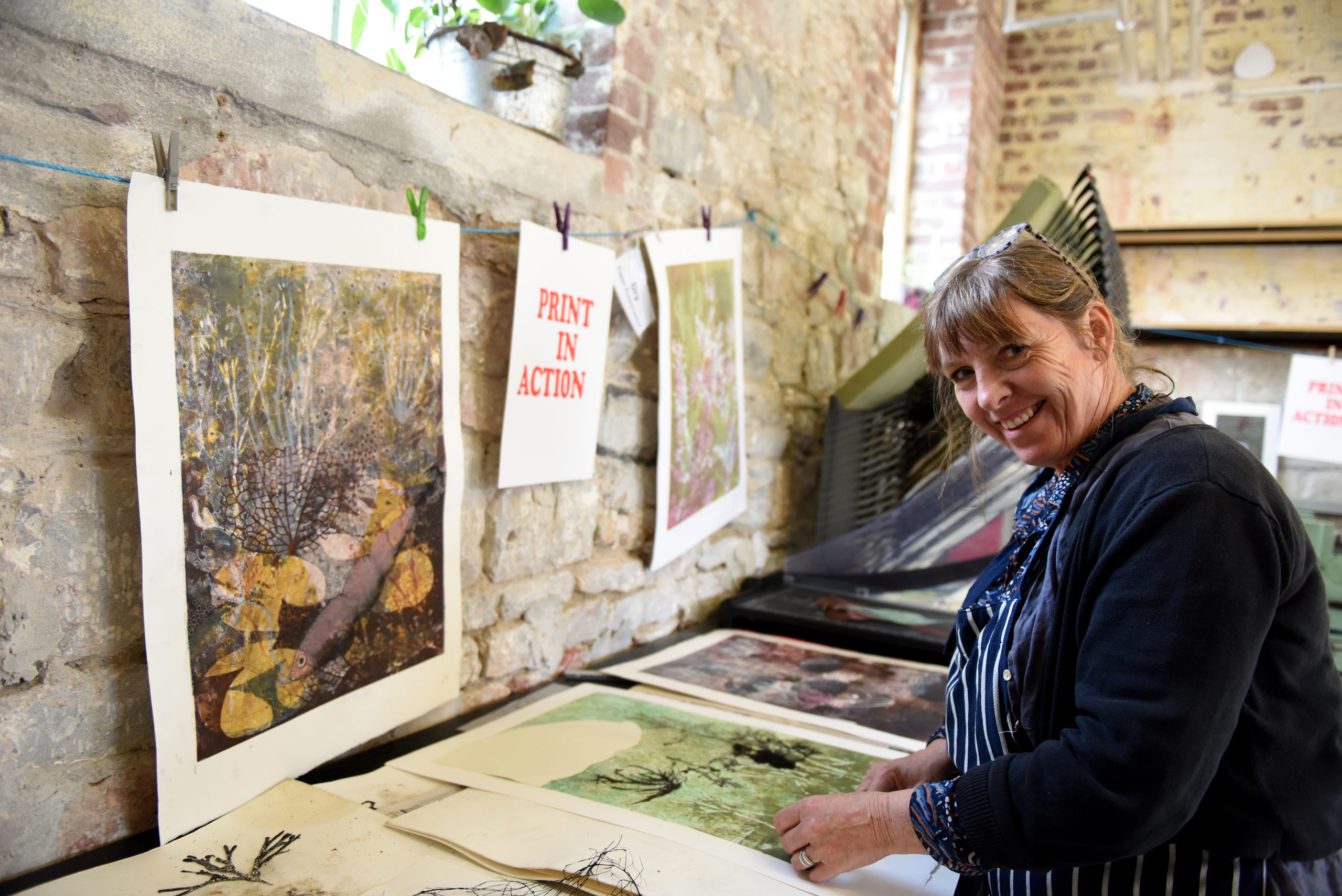 Who is Alan?
Alan Qualtrough, owns and runs Kiss & Bite Press, a letterpress art practice and print studio based in Ocean Studios. He regularly runs workshops in letterpress printing, linocut, and typography.
Alan is a letterpress artist, graphic designer and typographer and has exhibited work in Plymouth, the Tate Exchange (Tate Modern), and in the US. His art practice investigates our relationship to language and truth through the materiality of physical processes that involve letterpress. His workshops focus on the aesthetic and tactile qualities of setting and printing type by hand.
Who is Beth?
Beth Munro is a printmaker who splits her time between the Print and Press Studio at Ocean Studios and her own studio in South East Cornwall. She is interested in making work that reflects her life long passion with the natural world, specifically Ocean and Marine conservation. She uses a variety of printing processes including; Etching, Linocut, Drypoint and Monoprint to best reflect the nature of the idea, sometimes she will use several processes in one print.
Beth is part of the Tamar Valley Printmakers Collective and has exhibited at Torre Abbey, Theatre Royal Plymouth, Limekiln Gallery Calstock and the Blisland Institute. Beth Delivers workshops at Ocean Studios, works with schools and gives tuition at her Studio in Cornwall.
---
Evening entertainment!
As well as the fantastic selection of activities during the day, the festival will run into the evening with live music, delicious food and even better company!
Get to know other creatives in the city or just book a ticket to enjoy the vibrant atmosphere whilst listening to music over a drink and some delicious food.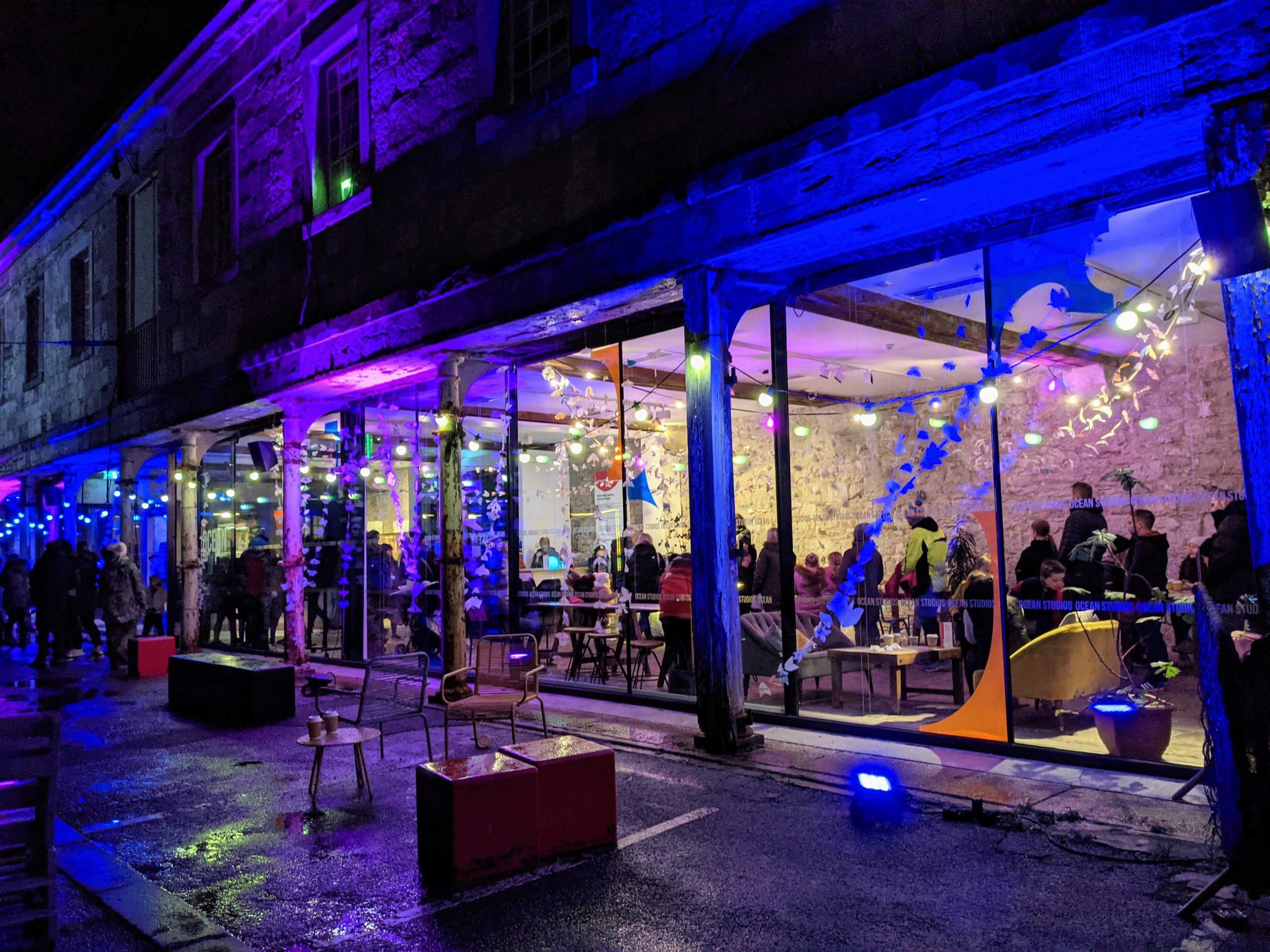 ---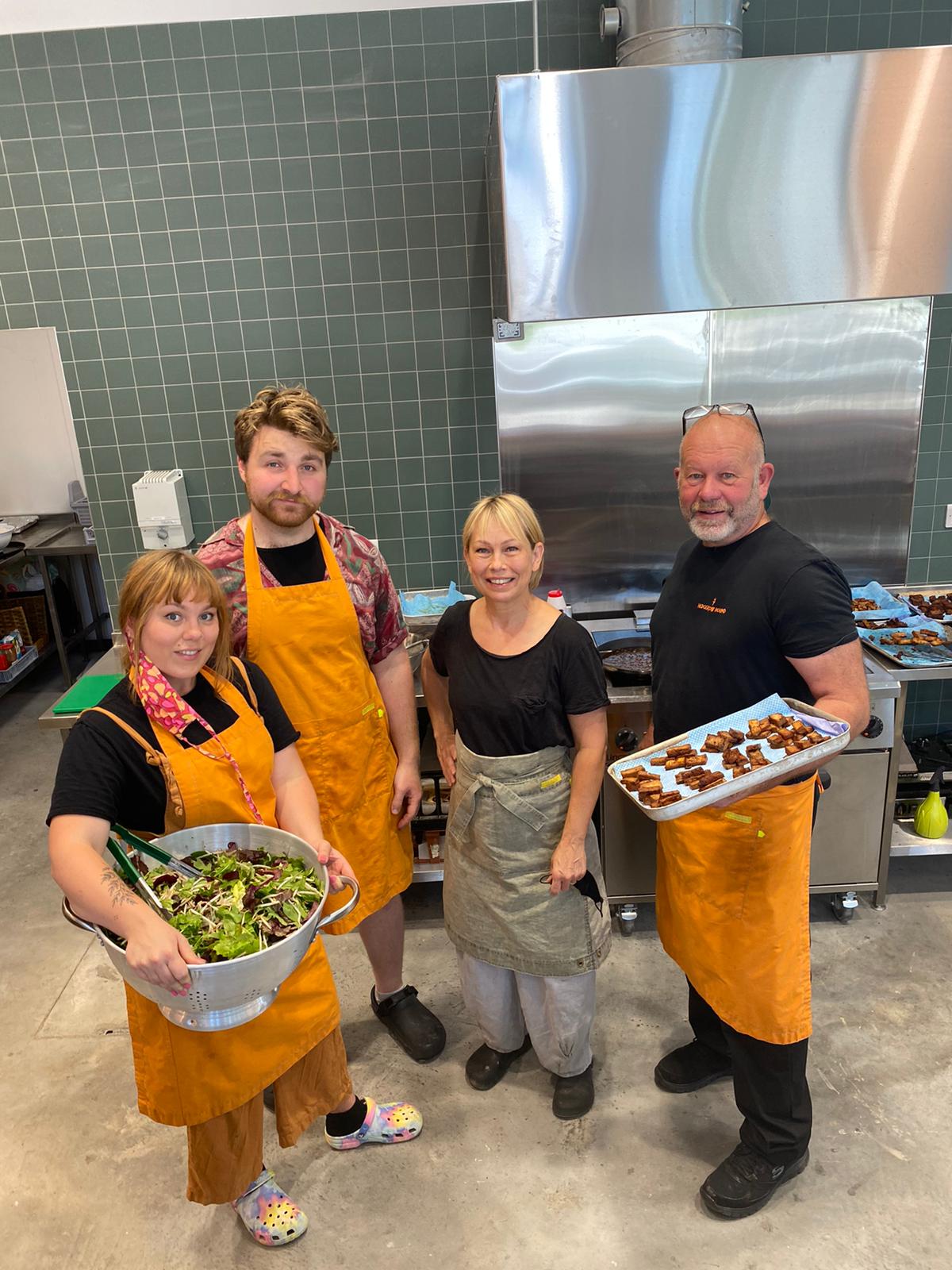 Fuel your creativity
In addition to the fantastic selection of the Yard's eateries we'll be welcoming Hedgerow Hound and their incredible award winning 100% vegan street food to the festival.
Who are Hedgerow?
The Hedgerow Hound started in 2019 having already pursued a passionate affinity with sustainable and delicious food. Since then they have been serving their family favourites and creations as street food vendors as well as event, wedding and pop-up caterers across the South West!
Their food is inspired by what we seasonally grow and forage in their Dartmoor based home, as well as a life long love for world food and their own culinary experimentation. All of this combined allows them to create and served varied and ever changing menu inspired by their favourite foods.
Hedgerow were supported by Start Something, an initiative launched in 2020 to support businesses to thrive in unprecedented times. We have been lucky enough to sample their delicious foods at events such as Illuminate Light Festival, G7 Fringe and Spatial Sound 2021. We're delighted to be welcoming them back to another public event where more of our wonderful visitors can enjoy their incredible food.
---
Ticketing Information
Day Passes
Each day pass is valid for the day selected, during 10am – 6pm.
Day passes include access to explore Ocean Studios exhibitions, collaborative projects, talks, demos, market area and music throughout the day. Experiences will span across the day at different times to compliment the programme.
Additional Taster sessions and Masterclasses will be at an additional cost depending on the session. Tickets will be available to buy before the Festival or on the day depending on availability. Details launching in September.
Evening Passes
Evening passes are for Saturday evening only, 6.30pm until late.
A chance to bring the creative community together at Ocean Studios. Expect some collaborative printmaking fun, demos, plus we're working with a special collaborator, a stone's throw away from Ocean Studios to bring you a Print in Action headline performance.
Evening passes sold separately are £10 per ticket/ £5 when bought with a Saturday day pass.
Day & Evening Passes
Interested in both our Day and Evening pass? Get a combined ticket, which includes a £5 evening pass!
Taster Sessions & Masterclasses
Taster Session and Masterclass programme launching in September.
These tickets will be sold separately.