Tucked away at the end of Royal William Yard is Ocean Studios, a place designed for artists and space that allows the creative juices to flow. The Real Ideas arts programme at Ocean Studios offer different workshops that cater for all levels of experience and expertise.
I attended a free workshop called A Taster and Introduction to Letterpress, it's an artform I knew little about considering my grandad was a printer. As soon as I walked into the studio I was drawn to the artwork on the walls drying and I noticed machinery I hadn't seen before, it felt cosy in spite of the stone walls. Our guide, Alan Qualtrough, was welcoming and explained Ocean Studios is for both people wanting to learn new skills and for established artists.
The aim of the session was to make a poster, we each thought of a few words which would grab the viewers' attention, and then we went to pick our letters. Along the way, we learnt the blocks used in the printing press are called furniture and that text has its own unit of measure. Not only did I learn a lot, but I thoroughly enjoyed it. It is very tactile and creative, and when putting the blocks in the press, it was a bit like doing a puzzle. The inks were much tougher than I imagined and seeing the transformation from blocks and ink to an art piece I could put on my wall was very exciting.
Our work had little flecks, was slightly darker in some areas and no two prints were the same. These small details or 'imperfections' really drew me in. On a smaller scale, the marks are delicate, and they show you the piece has been done by another person, giving it a human touch. But on a much larger scale, I like the message, no two 'things' are the same and if we can celebrate differences and 'imperfections' in art, we can do this in people too.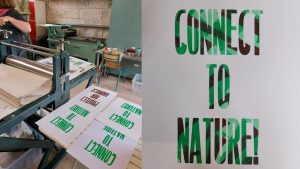 Alan is a letterpress artist, graphic designer and typographer, and he also has a wealth of experience in journalism. When Alan retired, he decided to go back to university to study graphic design and Visual Communication. For Alan's MA, he produced a book of prints that were messages or quotes from the Brexit campaign. Alan described that seeing the same words as a print and isolated from other text, allowed people to connect more with the words, and see what little truth lay behind them. I think this highlights how powerful art can be!
After spending a couple of hours on a Friday morning at the letterpress studio, I would definitely recommend this to others, I now want to see what else I can try and spend more time in the different studios that are available. I'm looking forward to dabbling in the array of activities Real Ideas has to offer. There is an Ocean Studios Open Day on 29th May, where we will meet some fantastic artists and learn some new skills. Many workshops are free, sometimes there is a small fee to cover materials. Ocean Studios also offers sewing workshops with Make at 140, Pottery with Tweeny At The Pottery and much more.
As someone new to Real Ideas, I am completely astounded at everything there is to offer, from the free workshops to community classes and online webinars to the Market Hall and the vast opportunities provided by the Immersive Dome. It is really important to Real Ideas that there is something for everyone and it feels like a real community.