The State of Us 2021 continues on Tuesday 4th May with its third event in the series, and we have yet another group of fantastic speakers to share with you!
The State of Us is a four-event virtual conference for anyone working on or interested in social, environmental, racial and economic justice, democracy, and power at a local level across the UK – whether through local enterprise, community organising, activism, third sector, or local government.
We will ask, what role do community-focused, economic actors have in building powerful communities? What is the best practice? Who are our allies and who shares our values? And how can we organise better? What does democracy look like in everyday areas of our economy such as work, public spaces and the production of the goods we consume? How do communities actively create power, within and beyond authority?
Following on from The State of Work and The State of Places & Spaces, The State of Resilience will examine how environmental sustainability is often side-lined for the illusion of economic growth, or set in-conflict with more social outcomes. This event will explore how we can ensure sustainability is at the heart of the struggle for autonomy and how community enterprises and initiatives are making this happen.
Find out more about our speakers for The State of Resilience:
Hannah Harris – Plymouth Culture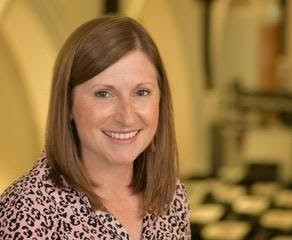 Hannah Harris is the CEO of Plymouth Culture, a sector development agency supporting the growth of the creative and cultural industries in Plymouth. Hannah specialises in strategic planning, partnership development and external funding within the creative sector and previously worked as the Director of Development for Plymouth College of Art.
Tomas Diez – Fab Lab Barcelona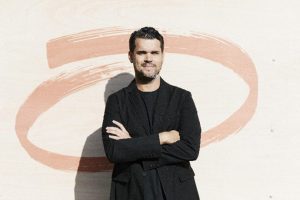 Tomas Diez is a Venezuelan Urbanist specialized in digital fabrication and its implications on the future cities and society. He is the co-founder and director of Fab Lab Barcelona at the Institute for Advanced Architecture of Catalonia (IAAC), and is a founding partner of the Fab City Global Initiative. He is also the director of the recently launched Master in Design for Emergent Futures at IAAC.
Tomas has been appointed by The Guardian and Nesta as one of the top 10 digital social innovators to watch in 2013, and has been awarded by the Catalan ICT association as the entrepreneur of the year in 2014. His research interests relate to the use of digital fabrication tools to transform reality, and how the use of new technologies can change the way people consume, produce and relate with each other in cities.
Jane Hembrow – Plymouth Scrapstore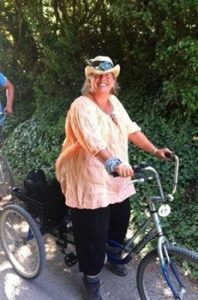 With a background in retail, it was after having her two children that Jane Hembrow embarked on her next career path. While volunteering at both parent & toddler and playgroup, she was offered a place on a foundation course in Early Years, Childcare and Children's Play. Still passionate about supporting children, young people and their families – Jane now finds herself volunteering at the scrapstore that she helped to set up.
"Back in the early 90's I found myself with the most amazing job at Plymouth City Council as a Play Officer working on a regeneration project that was helping to bring women back into the workforce – needing not only the jobs but also the childcare and holiday clubs that would enable them to return to work. It was here that I helped to found and set up Plymouth Play Association – offering playwork training as a means to future employment, playday events, playscheme grants, a toy and resource library, and of course the scrapstore and resource centre. From that point, I continued a career in Play at local, regional and national levels, and since retiring I am volunteering with the Scrapstore more regularly, it's a magnet!"
Susan Moores – Plymouth Scrapstore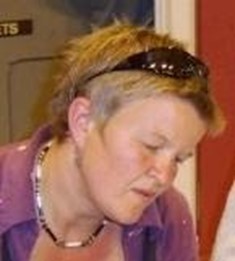 Susan Moores has always been drawn to people, and what makes them tick – she always knew that she wanted to work with and be among the collective human endeavour, rather than the individual experience. After studying sociology and social policy, Susan trained in youth and community work, and has been around that 'field of work' ever since. Having worked in the South West and nationally as a youth worker, in community development and as a trainer, Susan has provided support to many community-based organisations through all sorts of policy, personnel and purpose changes.
"I have worked in what used to be called 'voluntary sector infrastructure'- where in the early 90's I supported local food projects and initiatives that are still growing today. One of the interesting 'green questions' then was 'do you take money from an oil producer for local community growing projects?' I still wonder whether there is an answer, I certainly heard several at the time!!
For the last 10 years I have been part of a storytelling collective that is keeping alive the spoken tradition of listening well to the teller, and the wisdom gained from being in the circle around the fire; and for that decade I have been an active Director of what was formally known as Plymouth Play CIC and is now (from April this year) Plymouth Scrapstore CIC."
Mona Bani – May Project Gardens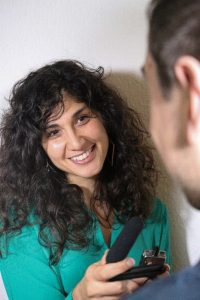 Mona is co-director of award-winning grassroots organisation May Project Gardens, who work with marginalised urban communities to address poverty, disempowerment and access to resources and influences. She leads their work with young refugees and asylum seekers, and co-founded their media channel Untelevised, which explores possibilities for social change, where she also hosts their podcast series. She has a decade's experience in social policy and third sector development including as a Youth Policy Adviser to the Cabinet Office and author of policy reports for Demos; Strategic Consultant to large charities, local authorities and funders like National Lottery and Help Refugees; as well as much frontline experience, including time in the refugee camp in Calais. She's herself the child of political refugees from Iran and grew up in Copenhagen before migrating to London as a teenager.
To find out more about the conference, view the full events programme and book your free place, visit The State of Us Homepage!