Joe Allen became a Member of the Real Ideas community in 2016 and has happily continued to create his masterpieces in Ocean Studios ever since! Being around a tight network of fellow artists such as @stevenpaige @_llyrdavies_ and Keiran Walsh here at Ocean Studios allows Joe to work at his best whilst having the option to pop to the café to get in some socialising and a cuppa.
The Ocean Studios network "gel really well" and "there is a great scene here" according to Joe (if you're interested in finding out more about the creative Real Ideas community then make sure to follow Ocean Studios on Instagram).
Joe was recently selected for an incredible artist residency to work at PADA Studios in Barreiro, just south of Lisbon. One of eight international talents selected for the residency, Joe immersed himself in group crits and networks with other local galleries, whilst sharing a studio space and ideas with the rest of his creative cohort.
We've received reports Joe had a fantastic time! Joe's usual start to the day consisted of a coffee with Gilberto, a thick-moustached Portuguese Barista, where Joe practised his Portuguese. The next stop was the studio, a 2 minute walk from both the Café and his accommodation. Joe used their large open studios and worked towards a show where seven other international artists also displayed their work. Joe's work was on display at the Via Nascer, Ja Senti (About To Be Born, Already Felt), an exhibition of works created during the artists' residency at PADA Studios.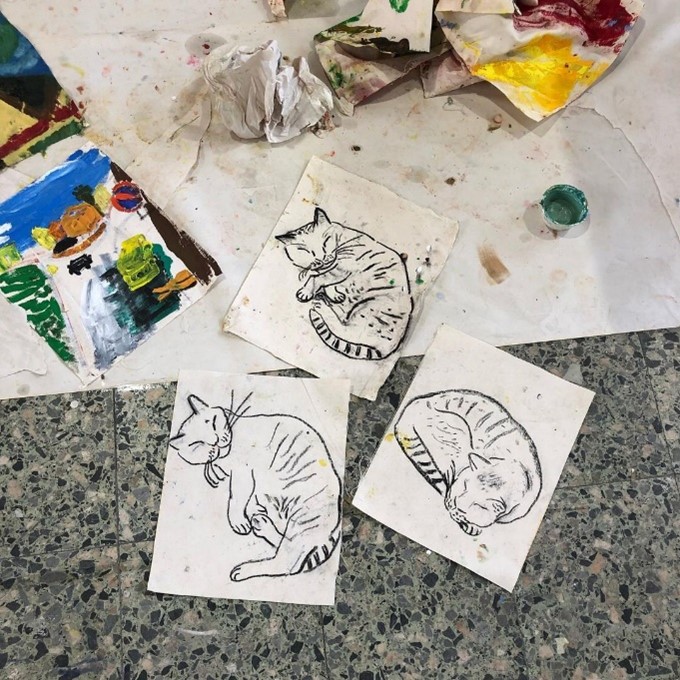 The painting Joe selected for the exhibition was made the night before the event, where inspiration and creativity blossomed from a place of ease and reflection. The piece was of the local Cat, Vicente, having a stroll at night around the neighbouring industrial units. It was art piece is poignant for Joe as Vicente was a muse for many sketches and became a good companion in Barreiro, so Joe felt it was only right to showcase Vicente's personality through paint for his finale. When Joe paints, his process can take anywhere from an hour to four, it's a process of building courage and having an eye for detail. Often Joe would circle his canvas in preparation, gearing up to make the first stoke, only later to scrape away and reapply until the painting achieves the "wow-factor". Joe finds taking breaks away from his paintings valuable, as when he revisits his potentially finished work Joe is particularly analytical. If the painting's form, colour, balance and feel upholds, Joe can hear a hypothetical bell ding, self-affirming his work.
The work on display provided an exciting visual dialogue between artists from different places, connected to each other by a shared moment in time on the residency. Joe's work often responds strongly to place and collecting his experiences in paint. Talking about the things that inspire his work while Ocean Studios, Joe remarked: "My inspiration is the things I see and when I walk into the studio, painting of car park, seeing the bees outside the back door, or a submarine going past".
This reaction to place was demonstrated during his time at PADA, Joe took time to enjoy painting en plein air in the autumn sun, sketched lazy cats, buses whizzing past, and now he's back at Ocean Studios has been painting beachy scenes (that are making us crave sunshine and swimsuit days again).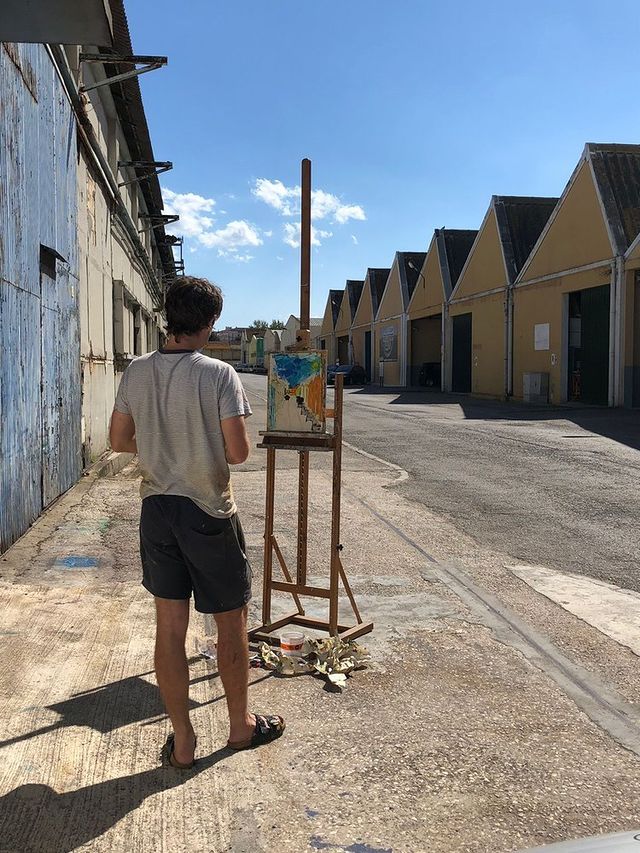 Joe took time to engage with the surrounding area and absorb as much of Portugal as he could. Joe is inspired by what he can see. Joe has particularly been enjoying furthering his practise of large oil paintings and drawings. The use of Joe's bright and bold colours and shapes draw you in and make your day that little bit happier.
The trip to Barreiro was eye-openning for Joe, he met wonderful people with great art practises and was able to use the time as a check point. Joe now has a clearer vision of where he wants to take his work and feels very fortunate to have had such an incredible experience.
Click here to see a video made about Joe Allen during his residency by a Apertura Studios.