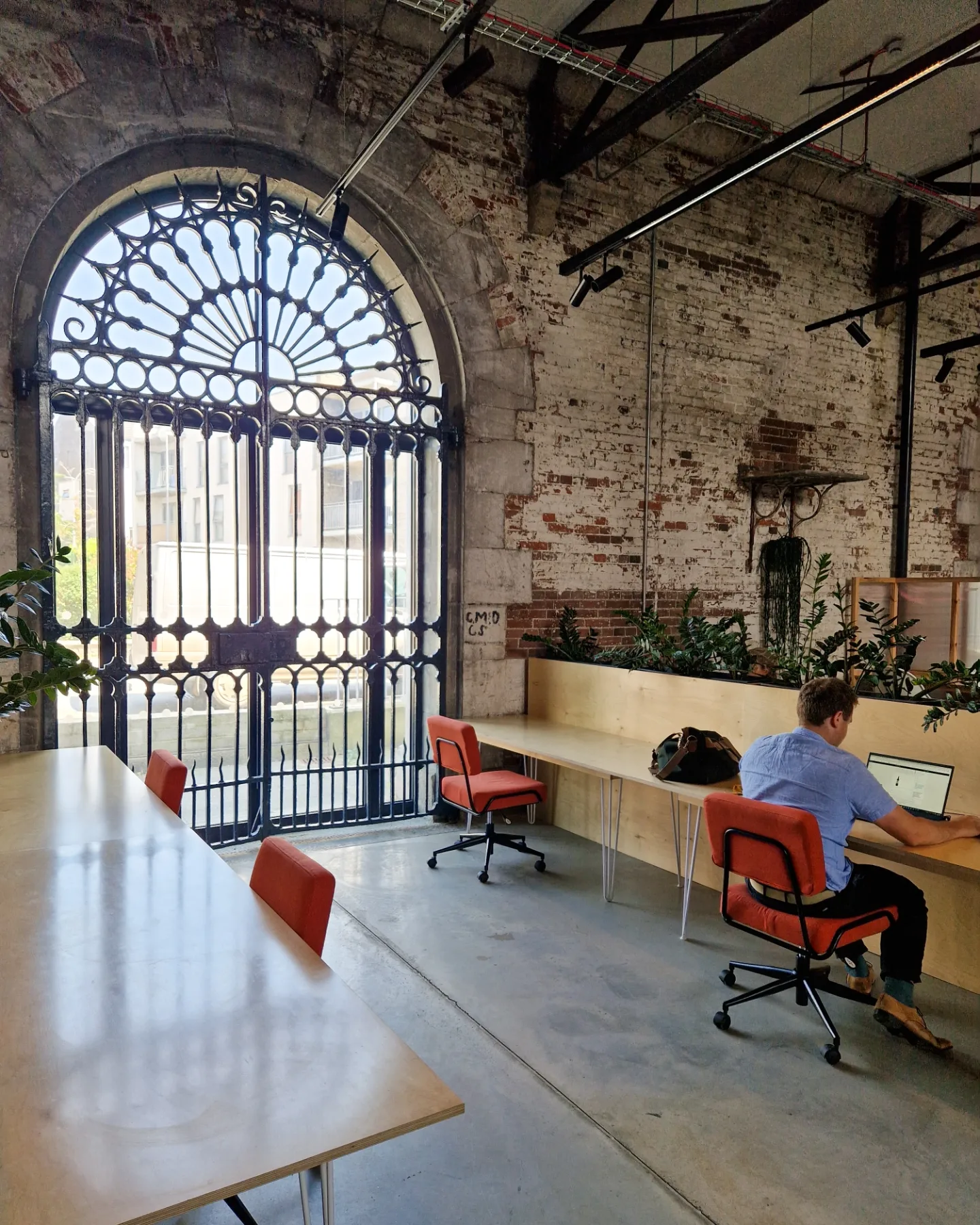 Market Hall Coworking
Welcome to Real Ideas' Coworking Space at Market Hall
Discover our stunning, comfortable, and well-equipped workspace in the heart of the Devonport, where luxury meets affordability. Our historic building, a renovated Grade II listed Market Hall, sets the stage for an exceptional coworking experience, combined with unbeatable prices that make us the most budget-friendly option in town. Choose between a hot-desk in our main space, a tucked-away sofa, or the option to hire a private room at a slightly higher rate, allowing you to find the perfect setting to suit your needs.
No induction needed – check the bottom of this page for instructions for your first day coworking!
Work in Style, Work in Comfort
At Market Hall, we believe that a conducive work environment plays a crucial role in productivity and success. That's why our coworking spaces are thoughtfully designed with multi-use comfortable furniture, different spaces for different needs, lots of natural light, plants, and of course plug sockets! Immerse yourself in the calm atmosphere of our airy building, surrounded by inspiring architecture and top-notch facilities.
We mean it when we say we want to make things easy for you. Once you're a member you can pay for a day's coworking simply in our cafe when you arrive!
Pricing That Fits Your Budget
For just £12.50, gain access to our premium coworking spaces from Monday to Friday, 8:30 am to 6 pm, and on weekends from 9 am to 6 pm. Experience the freedom to work on your own terms without compromising on quality or service. We have a variety of competitive pricing plans that will allow you to focus on what truly matters – your work.
What's Included in Your Membership:
High-Speed Internet: Stay connected with our lightning-fast, reliable internet connection, ensuring smooth and uninterrupted workflow.
Print and Scanning Facilities: Access our high quality print and scanning facilities, making it convenient for you to handle any documentation needs.
Kitchen Facilities with Complimentary Tea and Coffee: Enjoy access to our well-equipped kitchen, stocked with complimentary tea and coffee, to keep you energized throughout the day.
10% Discount in Our Onsite Café: Treat yourself to a delightful break and indulge in a delicious meal or refreshing beverage at our onsite café, with an exclusive 10% discount for our coworking members.
Access to Electric Car Charging: Play your part in sustainability with convenient access to electric car charging stations, ensuring that you can power up your vehicle hassle-free.
Bike Storage and Beryl Bike Bay Location: Embrace an active lifestyle with our secure bike storage facilities and easy access to the nearby Beryl bike bay, encouraging eco-friendly transportation options.
Showers: Refresh and rejuvenate with our onsite shower facilities, allowing you to stay active and maintain a healthy work-life balance.
Real Ideas' coworking spaces offer an unparalleled combination of inspiration, affordability, and convenience. Join our community of local organisations, professionals and entrepreneurs who choose Market Hall as the perfect place to spend their working hours.
If you've booked your first day of coworking, here's what's next:
Head to the cafe and speak to one of our customer experience hosts. They will provide you with a member's pass and be more than happy to show you around the space, and answer any questions you've got.
It's as simple as that!
See all Spaces