Real Ideas are delighted to be working with Daisy Laing Gallery, working together in a long-term partnership that supports emerging and established artists in Cornwall and Plymouth.
Founded by Kate Jones, Daisy Laing Gallery has been based on Chapel Street, Penzance, for over ten years now. Inspired by a love of contemporary art and a passion for stylish and distinctive mid-twentieth century design, the gallery in 2022 has evolved into a dynamic and constantly changing art space.
Before setting up Daisy Laing, Kate worked as a TV producer for many years and always enjoyed collaborating with other creatives, supporting and facilitating them to tell their story and have their say and this informs the way she works with the artists who show in the gallery. Daisy Laing is much more than just a white wall space or another commercial Cornish Gallery. Kate says she likes to think of it as a creative home for many of her returning artists.
Every year she curates an exciting series of exhibitions by emerging and more established artists. Always seeking out work that is challenging and innovative and which might not be seen in more conventional galleries. Over the past five years she has shown work by Tim Ridley, Tamzin Drew, Kleiner Shames, Winnie Lyn, Andrew Swan, Jimeee Freeez , Yolanta Gawlik, Tony Shiels, Claire Benson, Toby O'Brien, Natalia Hamon, Theo Carter-Weber, Dooomed and Louise Wright. This year she is also showing work by two newcomers to the gallery, and "ones to watch", recent Falmouth graduates and part of the GASS collective, Helena Clarke and Elizabeth Saskia Langley.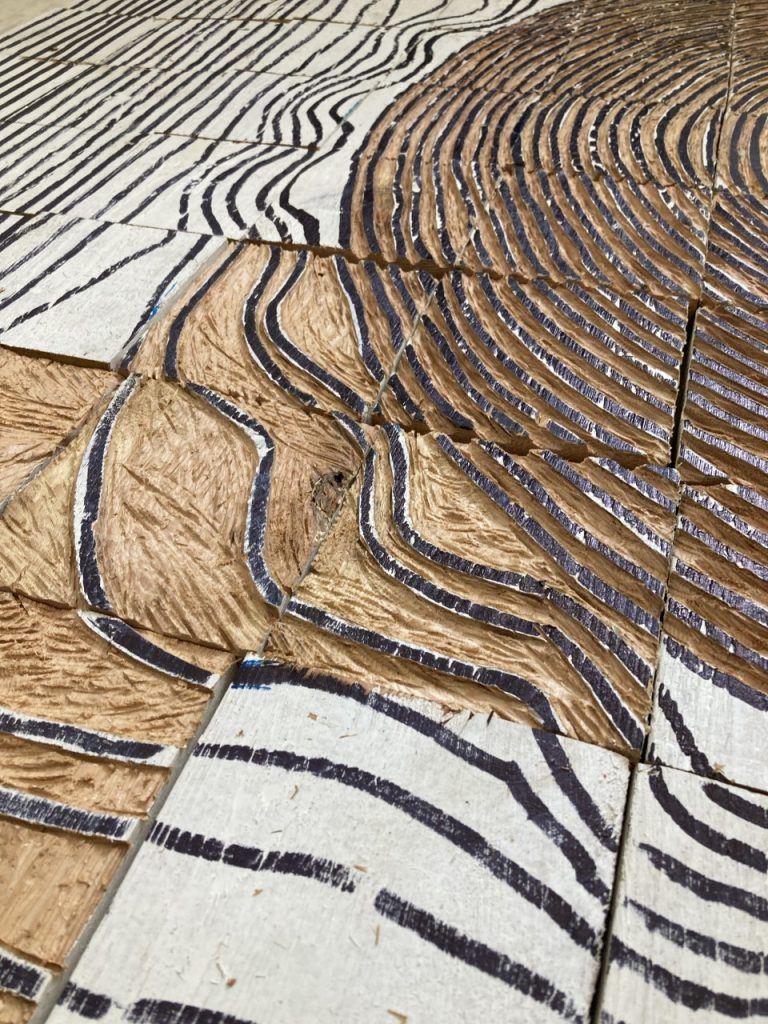 Since 2019, from her base in West Cornwall, Kate has been working hard to gain exposure for the artists she works with beyond the county. Having lived and worked in Plymouth in the past and having a strong connection to it, Kate feels like the city provides the perfect environment to expose an exciting roster of emerging and established artists to a wider audience. The city has a developing and vibrant art scene, with venues like Karst, the Mirror and Leadworks to name a few, and Kate has long been an admirer of the work that the Real Ideas do, as well as having an appreciation of the incredible space that is Ocean Studios,
Kate has been successful in setting up a long-term partnership with Real Ideas bringing artists from Penzance to do residencies, run workshops and exhibit in the café gallery. The programme started back in 2020, Tim Ridley being the first participant, followed by Kleiner Shames whose residency was cut short due to the start of the Pandemic. This April the residency programme has finally resumed with artist Winnie Lyn, who has been working on Japanese Woodblock printing, which will be exhibited in June and July at Ocean Studios as part of Plymouth's 2022 Print In Action festival.
Part of the long-term partnership with Real Ideas is also to involve Plymouth artists in residencies and to exhibit at Daisy Laing in Penzance and with that in mind Kate is currently on the look-out for new collaborators. For more information contact her at kate@daisylaing.co.uk
To find out more about our programme at Ocean Studios, sign up to our monthly What's On guide here.