The sun was shining with barely a cloud in sight when I went to the Open Day at Ocean Studios, it felt like I was on holiday! When I walked into the courtyard of Ocean studios, there was a buzz as people ate outside at the picnic benches and mingled with the artists. I spent around 4 hours at the Real Ideas vicinity, but it didn't feel that long at all.
I popped my head into the first studio when I arrived, and ready and waiting was Beth Munro with some prints she had made. Having done the Letterpress workshop the week before, I couldn't wait to try another printing technique, so I immediately got involved with a Monoprinting taster session! It was a fantastic process where you repeatedly print onto the same area of the paper. We used ink, tiles and paper but we also used more unconventional items that you wouldn't have thought of, like real leaves, scrap bits of plastic, random bits of yarn and even bits of fabric like hessian and lace. I learnt what a ghost print is, and I looked at different complementary colours, trying to figure out what the end colour would be once I merged red, purple and yellow! We ended up with these fantastic prints that have many layers. Each time I looked at a piece I noticed something different, whether it be a slightly coral-like structure the yarn made, the tiny intricate veins on the leaves or sections of colour that hadn't been covered since the first print. You can see one of the prints I made at the top of this blog!
So, I started my day with the taster class in Monoprinting, then explored the more studios on the other side of the square where I wandered into a pottery studio with Tweeny van Mierlo. I then walked through to the jewellery making studio with Nicky Sadler and I recognised a few pieces of equipment in the Jewellery studio from my school electronics lessons, like a soldering iron.
Next, I went up the stairs and got to a row of even more studios! They were filled with painters, sculptors, and printers, and I met David Hilton, Nikki Taylor and Megan Hall.
Then at the end of the corridor, I was surprised to be standing in the shared workspace which led down to the cafe. I had a great explore! Ocean studios are such a fantastic space, being on Royal William Yard does give it an extra special feeling, as the sea surround you and the sun reflect off all the stone buildings.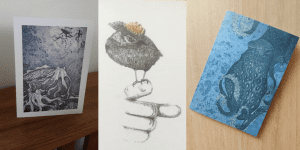 I think art makes you feel more connected to your emotional health, the environment, and different people around you. At the end of my taster session, I bought a few cards from Beth (3 for £5 – what a bargain!) and sent them to a few family members. The card's journeys in the post took them to a mantelpiece in Worthing, Sussex, a bedside table in Woking, Surrey, and on a living room wall in Hounslow, London!
There's always something on at Ocean Studios, so why not take a visit and check out some of the amazing artists and see what they have to offer. A few events we have coming up are the Native Makers pop-up session, the Sea and Land Exhibition by Emma Carlisle, An introduction to Drypoint Etching Workshop with Beth Munro and we're hosting the Plymouth Hub – Mxthers Who Make.
Whilst you're at it, why not check out the artists I spoke to at the open day:
Beth Munro, Printer, @bethmunro.prints
Megan Hall, Printer, @flotsamprints
Nicky Sadler, Jewellery Artist, @nicky.sadler.designs
Nikki Taylor, Sculptor, (5) Nikki Taylor Sculpture | Facebook
Tweeny van Mierlo, Pottery, @the.pottery.at.ocean.studios
David Hilton, Painter, https://www.davidehilton.co.uk/