Luke Sebastian Wade will be joining the Print in Action Festival line up as part of Bristol Print Collective, alongside Jemma Gunning, Sonja Burniston and Victoria Willmott. They will be inviting the public to help them carve and print a giant linoleum sheet that will be based on their explorations around Plymouth and the research into marine biology, conservation and seaweed. We caught up with Luke to find out more about his practice.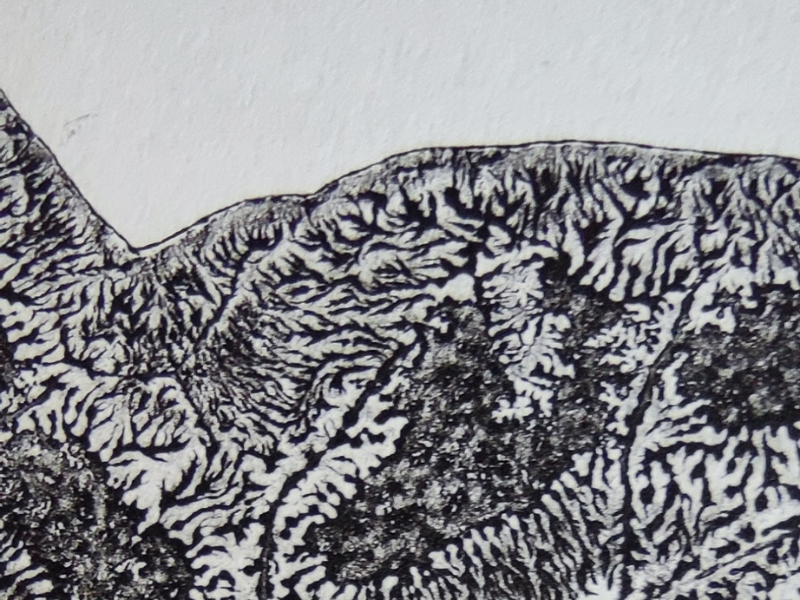 Luke is a draughtsman and a printmaker who is preoccupied with collapse and threat. This draws him to scenes of conflict, areas of societal tension and emerging dangers in the Western world. When this proves too overwhelming to deal with, he retreats into simpler territories, the taxonomies of objects that he likes to render in detailed relief work.
"Intaglio is my mainstay, and etching is a deep delicious world to dive into. I find that linocut allows me freedom to work outside the cumbersome order of etching processes and make more immediate work. Drypoint is a nice go between: closer to drawing, but still with a seductive process underpinning it, albeit not prohibitively long and drawn out."
He is inspired by 18th Century printmaker Goya "Goya is god, we need more printmakers that can tackle the dark parts of life with such delicacy and flair. Brian D Hodgeson is my present inspiration: this is a true artist who strives for his practice and focuses on technical excellence. The man literally climbs mountains to make his etchings. That's serious dedication to the craft."
To create his work, Luke likes to use quality tools and supplies; "A good, fine roulette is really satisfying. For etchingri I use intaglio shop mix velvet black for basically everything. Although in recent years I've actually been won over to Cranfield for all forms of printing. They make good inks at good prices that are rich and reliable." Staying local with paper made in the South West, Luke says his go to paper is "Somerset satin Newsprint grey. Amazing colour, so distinctive and luxurious. Somerset is to paper what Lindt is to chocolate."
If you'd like to get involved in Bristol Print Collective's giant print workshop, you can buy your ticket to the festival here. Find out more about Luke on his website here and on Bristol Print Collective's website here.