Welcome to Badge Nation – a powerful collective of employers, schools, colleges, training providers, and informal educators. We are committed to recognising what individuals accomplish outside of formal accredited qualifications, using digital badges to motivate learning and ambition.
With Badge Nation you can easily create your own bespoke badges to acknowledge and reward the achievements of your students, volunteers, colleagues and teams. Led by Real Ideas and Future Creators, all badges issued by Badge Nation are written using the Cities of Learning badge standard which is endorsed by City and Guilds and the RSA.
Interested? Find out how you can join our community:
Check out our free intro video that tells you all you need to know, and download our Badge Nation presentation to keep as a handy reminder.
What are digital badges?
A smart, simple, and visual way of recognising non-accredited learning.
An effective and inexpensive way of demonstrating your impact as an organisation.
Accessible anywhere to anyone, using only a website link.
A useful tool for earners to proudly display on their website, email signature, LinkedIn profile, and CV.
How do they work?
Using Acclaim by Credly, digital badges show the awarding organisation's logo and the criteria achieved.
They recognise and acknowledge the development of transferable skills and aptitudes that employers value, typically not recognised through exams and formal qualifications.
They motivate learner behaviour by recognising achievement.
They help learners better tell the story of their participation with you.
Here is what a digital badge looks like in your browser. You can clearly see the awarding organisation, skills, and earning criteria associated with the badge.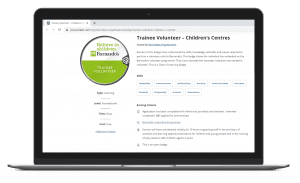 The Badge  Standard
This standard provides a structure to communicate learning in a consistent way, making it easier to understand what people are doing, how it helps, and where it could lead.

What is Badge School?
'Badge School' is Badge Nation's membership and badge creation area.
Once you're involved, you can quickly create, design, use and award your own bespoke badges, whilst sharing learning and knowledge with other Badge Nation members.
What is the process for writing badges?
Identify the activity you would like to badge, mapping to the Badge Standard.
Receive badge writing training
Complete a form detailing the awarding criteria.
Receive support to use Acclaim by Credly
Badges are quality assured.
Badges are published to Acclaim by Credly.
Award the badge to earners that have achieved the specified criteria.
What's included in Badge Nation Membership?
One 12-month membership will grant your organisation:
Access to Badge School and Badge Nation members platform (launching 2021) for up to 3 individuals.
Access to the Badge Nation issuing licence on Credly Acclaim for up to 3 individuals.
Award badges to an unlimited number of individuals.
6 badge templates, designed, quality assured and published by Badge Nation.
Personalised support to understand how best to use digital badges in your context and create your own collection.
Support to introduce, issue and promote your badges to the people you work with.
Consultancy services by arrangement (additional cost).
Costs – One 12 month membership is £200 +VAT (£240 inc.) per organisation.
If you wish to create and publish additional badge templates – Quality assurance, design and publishing of these can be purchased for added cost of £25 +VAT (£30 inc.) per template.
Get started – Attend a workshop and learn all you need to know for writing your first badge!